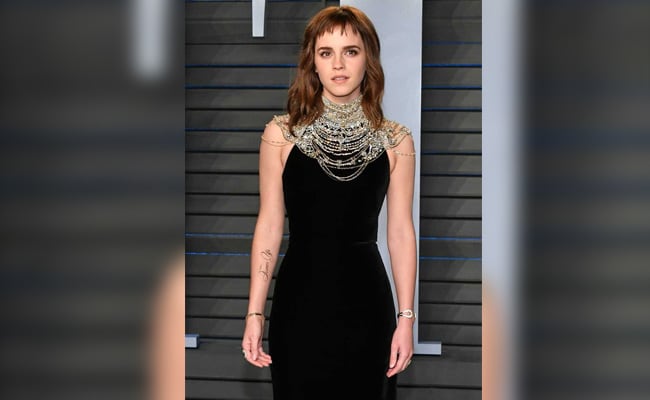 Actor Emma Watson was dressed to the nines at the Vanity Fair Oscar Party. She wore a classic black gown and sported a new fringe haircut. But the statement piece in her look was not jewelry or her clothes but a tattoo on her forearm. The tattoo honoured the
Time's Up movement
, an initiative that she lent her support to a couple of months ago. But the message was overshadowed by a gaffe in the tattoo, which eagle-eyed netizens noticed and posted about.
To show her support for the movement, the Harry Potter actor and UN Women Goodwill Ambassador sported a tattoo with the words 'Times Up' on her arm. The missing apostrophe became Twitter's talking point and got all the eyes rolling for the wrong reason.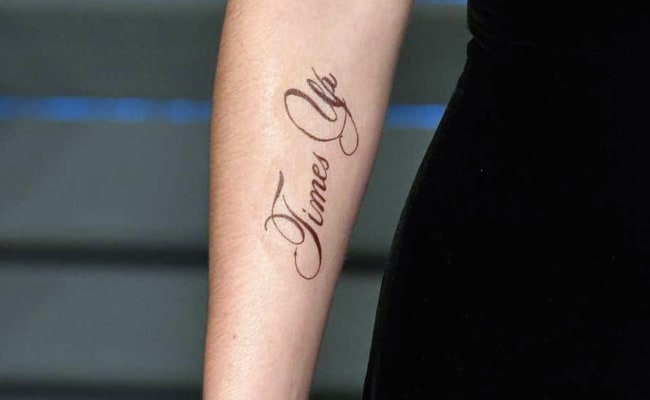 The buzz reached the actor who eventually acknowledged the error by tweeting a joke about the whole thing.
Fake tattoo proofreading position available. Experience with apostrophes a must.

- Emma Watson (@EmmaWatson) March 5, 2018
While the tattoo was temporary, the reactions to it were quite real - some mocked Ms Watson for the grammatical error, many others defended her. Here are some of the reactions posted on the micro-blogging site.
Emma Watson got a "Time's Up" tattoo but it's missing the apostrophe. I sooooo thought she was better than that. #oscars

- Kayleigh Ryan (@K4yry) March 5, 2018
Emma Watson's grammar fail on #TimesUp tattoo So focused on man hating didn't bother learning how to spell / good grammar. Belly laughs. Hope it's a temporary one...#Oscars

- VixenInTheCity (@NikitaCatSpeaks) March 5, 2018
So Emma Watson got a #timesup tattoo and people are mad that it's missing an apostrophe pic.twitter.com/Cj0llNSsDC

- Danny Maguire(@typhon1996) March 5, 2018
Can't even deal with the fact people could obsess over @EmmaWatson 's error on her #TimesUp tattoo. What have we become? If we can't even make a stand without being criticised.

- sophiegilbert (@sophienatalya) March 5, 2018
I don't know what's worse, the fact that Emma Watson got the words "Time's Up" or the fact that there's no apostrophe on her tattoo. It honestly looks awful on her

- Alex (@MissAADaddario) March 5, 2018
Y'all are coming for Emma Watson's "Time's Up" tattoo just because it did not have an apostrophe. That tattoo serves for a meaning and purpose in her humanitarian advocacy. AND first of all, she did not graduate from Brown and served time in Oxford for your irrelevant opinion. pic.twitter.com/MrNbCcM0ds

- N (@panesnobi) March 5, 2018
The Time's Up movement was created by hundreds of leading women in Hollywood in the wake of sexual assault and harassment allegations against Hollywood producer Harvey Weinstein. "The clock has run out on sexual assault, harassment and inequality in the workplace. It's time to do something about it," says the
official website
.
Ms Watson has been a vocal advocate of the movement and even donated 1 million pounds to a campaign that aims at ending sexual harassment in the UK, reports the
Telgraph
.Click for more
trending news