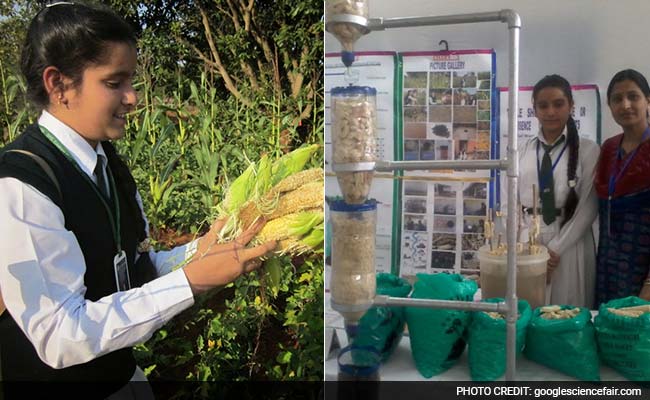 In a moment of pride for India, class IX student Lalita Prasida Sripada Srisai from Delhi Public School, Damanjodi in Odisha has won the Community Impact Award for her project at the Google Science Fair.
Lalita, 13, has created an alternate, low cost and eco-friendly method to purify water using corn cobs. Corn, an important staple, is widely grown in India. While corn kernels have widespread uses, the cob itself is considered waste.
Building on this premise, Lalita devised a method to use this waste material to filter water.
Here's a a brief explanation of her project:
LOW COST BIO-ADSORBENT
Aquatic ecosystems support various life forms. Discharge of contaminants into water bodies is a matter of concern all over the World. Thus, the waste water released from different sources should be purified at source. This project aims to clean waste water by flowing through different layers of corn cobs like long pieces of corn cobs, small pieces of corn cobs, powdered corn cobs, activated charcoal made from corn cobs and fine sand. This is a cost-effective and simple technique. This is useful for immobilizing the contaminants in domestic and industrial effluents, and in ponds, reservoirs and water tanks.
Lalita's project has won her funding of $10,000 and a year-long mentorship from the magazine Scientific American, which will help her build and better her idea.
@ Lalita Prasida Sripada Srisai from Koraput, Odisha - Winner of Community Impact Award at Google Science Fair 2015. pic.twitter.com/cYaZ0exc8I

- Sagar Satapathy (@sagar13d) September 22, 2015
You can read more about her project
here
.
Many congratulations to Lalita.