New Delhi:
If you suffer from Herpetophobia - the fear of creepy crawlies, you've been warned because this is not for the faint hearted. A video of an Octopus squeezing through a small hole has resurfaced on social media and it will make you really uncomfortable. The video that was posted in 2011 made its way back to the Reddit home page today.
The video shows the tentacled creature desperately trying to escape what seems like a fishing boat. "He can't get through that", a voice exclaims in the video. "You are wrong my friend", says the person shooting the video. The determined Octopus successfully slides out of a narrow gap and drops into the ocean as the people on the boat watch in absolute shock.
See the video of the Octopus' great escape here
The video was shot by Chance Miller, a fisherman from Alaska which is where the video was reportedly taken.
See the creature in action one more time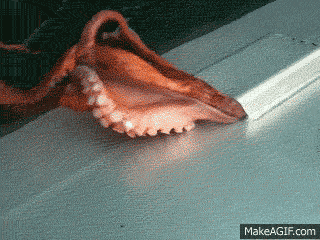 The Octopus amazed social media with its contortion skills. "I guess there's no point in eating it, it would find a way to get out of your stomach.", said a comment on YouTube.
"This is so clearly staged. That's not an octopus. That's a midget Chinese contortionist in a morph suit", said a Redditor.
The creepiest flashback Friday ever!