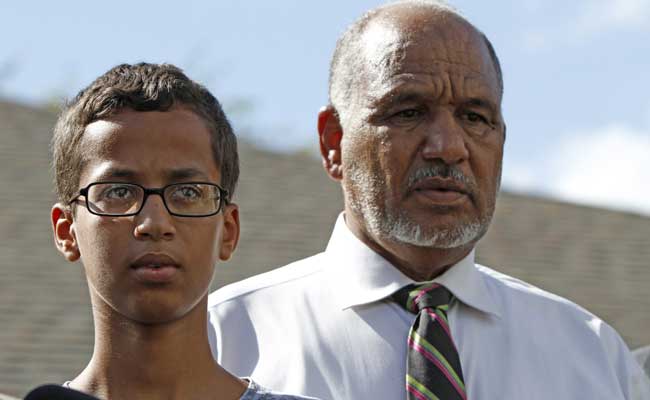 An invitation to visit the White House by President Barack Obama, an Invitation to meet Mark Zuckerberg at the Facebook headquarters, an invite to attend the Google Science Fair, and encouragement from many prominent scientists - so far Ahmed Mohamed has received a huge outpouring of support. Not far behind on the list of supporters are the people on Twitter expressing solidarity with Ahmed.
By now almost everyone on the Internet knows about the 14-year-old boy who invented a homemade digital clock for a class project to impress his teacher. Far from being impressed, the school accused him of making a fake bomb and suspended him. The teen was handcuffed and interrogated by police.
A picture of the child dressed in a NASA t-shirt, with handcuffs on, was also posted on Twitter.
I expect they will have more to say tomorrow, but Ahmed's sister asked me to share this photo. A NASA shirt! pic.twitter.com/nR4gt992gB

- Anil Dash (@anildash) September 16, 2015
The incident caused major outrage, with people taking to social networking sites to condemn the act. Scores of people began posting their support for Ahmed with #IStandWithAhmed on Twitter.
According to
BBC Trending
, the hashtag, which now has about a million tweets registered to it, was started by 23-year-old Amneh Jafari.
If his name was John he would be labeled as a genius. Since its Ahmed he's labeled as a "suspect". #doublestandards#IStandWithAhmed

- Amneh Jafari (@AmnehJafari) September 16, 2015
Amneh, a psychology student with eight siblings, two of whom are Ahmed's age, told
BBC Trending
, "it was so close to home."
#IStandWithAhmed trended all of Wednesday. Here's what all that Twitter support looks like:
Cool clock, Ahmed. Want to bring it to the White House? We should inspire more kids like you to like science. It's what makes America great.

- President Obama (@POTUS) September 16, 2015
Hey Ahmed- we're saving a seat for you at this weekend's Google Science Fair...want to come? Bring your clock! #IStandwithAhmed

- Google Science Fair (@googlescifair) September 16, 2015
Hi @IStandWithAhmed ! I'd love you to join us for our science show Generator in Toronto on 28 Oct. There's a ticket waiting for you.

- Chris Hadfield (@Cmdr_Hadfield) September 16, 2015
Looks like Ahmed might need a new NASA shirt. I can give him one of mine - that flew in space! #IStandWithAhmedpic.twitter.com/I5aluiw24C

- Daniel Tani (@Astro_Tani) September 16, 2015
Anytime you wanna see Mars rovers Ahmed, let me know. #IStandWithAhmed

- Imperator MARSiosa (@cirquelar) September 16, 2015
Infact, I think the whole of JPL would welcome Ahmed with open arms. #IStandWithAhmedhttps://t.co/9FU3ZlHkCi

- Doug Ellison (@doug_ellison) September 16, 2015
Real purpose of Ahmed's device. @IStandWithAhmed#IStandWithAhmedpic.twitter.com/17WHhAmv8C

- Adnan Ali (@adnan04ar01) September 17, 2015
Here's what scares me. A science teacher who doesn't recognize science. #IStandWithAhmed

- Dayna Steele (@daynasteele) September 17, 2015
This is the whole story of #IStandWithAhmed for which they made him terrorist & handcuffed him bc he is a Muslim. pic.twitter.com/TSoT2AC4pS

- Sofia Ali (@SofiaSyyed) September 17, 2015
#IStandWithAhmed When negativity turns around to become immense opportunity. pic.twitter.com/QzRSgV9ZtO

- Download #Woman (@manipulator77) September 17, 2015
Civilised society should be ashamed at the Ahmed episode. A thousand Ahmeds facing hatred and bigotry on a daily basis. #IStandWithAhmed

- Rana Ayyub (@RanaAyyub) September 17, 2015
I have so much respect for him. #IStandWithAhmedpic.twitter.com/lZlwzAexMi

- Common Belle (@CommonBellePrbs) September 17, 2015
I love this kid He is going to make a difference #IStandWithAhmedpic.twitter.com/gytb8hd6KG

- alondra (@londerswonders) September 17, 2015
Here's a HERO not a VICTIM!! Bless this boy!Its time a few so called 'activists' learnt from him #IStandWithAhmedpic.twitter.com/FuDt5qdecH

- Monicka Vadera (@mvadera) September 17, 2015
A child should not be arrested as a result of adult fear and ignorance. #IStandWithAhmed

- Pedro Noguera (@PedroANoguera) September 17, 2015
Ahmed Mohammad's father ordered pizza for media reporters waiting outside his house #IStandWithAhmed#TheMuslimWaypic.twitter.com/WjkqUQJKKS

- Jibran Nasir (@MJibranNasir) September 17, 2015