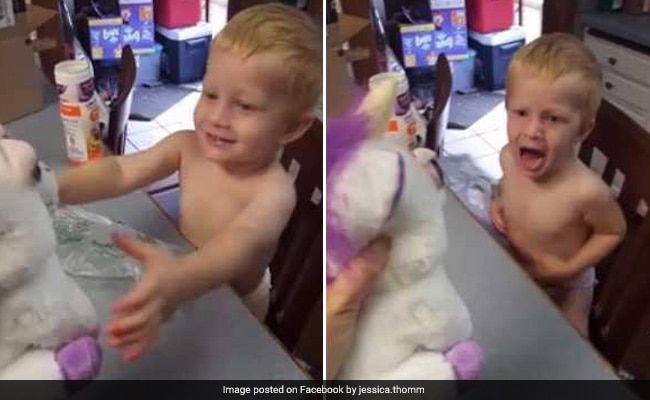 Parenting can often be challenging and among the things that make it worthwhile are moments such as the one captured in this video going viral. Everyone knows mums and dads sometimes like to pull the mickey out of their kids. This video shows just that. A mother in Wisconsin, US, bought her son a new toy and recorded his reaction upon seeing it for the first time. What happened next? A viral video with millions of views and smiles on many faces.
Facebook user
Jessica Mags shared a post
on October 11 that has since collected a whopping 11 lakh shares - and still counting. The post shows two videos - one of the toy and the other of her son meeting this toy. It's important to know that the toy she bought is a special one. It looks like a cute little thing you can hold and cuddle but with a little switch can turn into a child's worse nightmare.
Behold:
Get the drift?
Now the video that follows this delightful one shows little Weston's reaction on seeing this lovely gift. Are you ready?
Laughing out loud aren't you. If you're not, and you feel bad about Weston, don't. "He's fine btw. He's asking to watch the video and is laughing at it," says mum Jessica in her post.
While the first video has collected over 71 million views, the second one has 39 million views. And boy! That's a lot!
"OMG can't stop laughing and watching," says one Facebook user. "I dunno why but I want one," says another. (It's not hard to guess why, is it?)
Let us know what you think of the video in the comments section below.Click for more
trending news