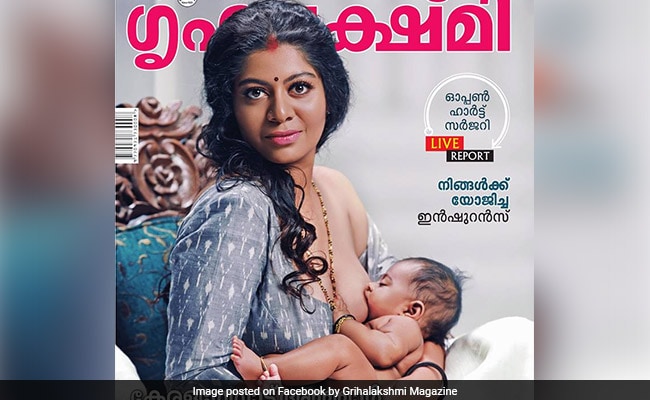 Highlights
Malayalam magazine's cover sparks intense debate on social media
Text reads: "Moms tell Kerala: stop staring, we need to breastfeed"
Image part of campaign to stop shaming women breastfeeding in public
New Delhi:
For two days, the cover of the very popular Malayalam magazine Grihalakshmi has been the centre of debate on social media. The reason? A woman breastfeeding a baby is its cover photo. The magazine claims it is the first time an Indian publication has put the image of a woman breastfeeding on the front cover. The image is part of a campaign called "Breastfeed Freely," which aims to stop shaming women breastfeeding in public but the decision to use a model who is not a mother herself is a major point of contention among many netizens.
The magazine's March issue features a striking image of Dubai-based actor and model Gilu Joseph staring straight at the camera, with a baby at her breast. The text on the cover reads: "Mothers tell Kerala: please stop staring, we need to breastfeed."
"Don't stare, we are #breastfeeding!"

Grihalakshmi March 1st Issue is out, which speaks about the importance of breastfeeding, and the taboos revolving around it. pic.twitter.com/CtobpNInMO

— Grihalakshmi (@Grihalakshmi_) March 1, 2018
Defending her decision to appear as a breastfeeding mother, Ms Joseph says breastfeeding in public often causes women to face discrimination and discomfort.
"Society doesn't provide an environment for women to breastfeed in public and feel safe while doing it," she says in a video
posted on Facebook by Grihalakshmi
. "It's a privilege mothers have - feeding their child - you don't have to be afraid or ashamed."
"I had no second thoughts about doing this shoot, despite being a woman who is not married and is not a mother," Ms Joseph adds. "It is for a good cause."
The cover has divided opinion on social media, with some calling the move "gimmicky."
Breastfeeding is so sublime that no mother will do for a photoshoot. Our mother has given breastfeeding without any campaign, this is a commercial gimmick in the name of celebrating motherhood

— Bless.T.Anto (@bless_t_) March 1, 2018
If u cover it with ur saree nobody would stare...its a divine time btwn mum n baby pls dnt make monie...this is not our culture.

— munirah (@imas64) March 2, 2018
Cover-up and breastfeed your child..You dont have to flaunt your breast as simple as that.

— Satanyahu (@Satanyahu) February 28, 2018
#breastfeeding Topic is nice for the awareness! Bit it should have been some real woman mother & not a model. For everything glamour, fashion,vulgarity is being used for attraction. That's not good. No mother feeds child without cover. Why such pic?! What's interest behind this?!

— DrSunder Ramchandani (@DrSunder1) March 2, 2018
But there has been an outpouring of support as well, including a thumbs up from UNICEF India.
Exclusive #breastfeeding for the first six months gives babies the best start in life. #EveryChildALIVE
Congratulations to @Grihalakshmi_ and @Mathrubhumi for supporting breastfeeding. #ForEveryChild, health https://t.co/WPBxfVdgxG

— UNICEF India (@UNICEFIndia) March 1, 2018
As a mom of 3,If my baby is hungry I WILL feed him ANYWHERE/ ANYTIME irrespective of what people think,makeup or no makeup, aesthetic or not,beautiful or not, politically correct or not I WILL feed my baby,so look away if you don't agree.
Congrats @Grihalakshmi_@Mathrubhumipic.twitter.com/hZlCYx2cpa

— Celina Jaitly (@CelinaJaitly) March 2, 2018
Translation - "Do not stare at us while we are breastfeeding"

Really glad to see Grihalakshmi a leading magazine is breaking the Society norms without sexualizing it



I love the way Gilu Joseph (Model) stares at the reader straight in to your eyes. The message is a bang on! pic.twitter.com/SFYvNgDQrS— The Great Dictator.! (@tittoantony) February 28, 2018
To say that a magazine coverpage showing a mother breastfeed is trying to titillate audiences and is cultureless is wrong at so many levels. Its such a pure natural process ... #grihalakshmi stop shaming mothers for breastfeeding. #breastfeeding

— Tanvi Shukla (@tanvishukla) March 1, 2018
By making breastfeeding more noticeable in everyday life, it will help desexualize women's breasts. The more society learns about breastfeeding and the act of nursing openly being destigmatized, the fewer women who breastfeed will be harassed. https://t.co/qjwdDjzYVT

— Romila (@romspeaks) February 28, 2018
I only wish Gilu Joseph (the model) wasn't wearing sindoor. It'd have been more inclusive of unwed moms and women who don't believe in marriage markers.

I'm sure it was a @Grihalakshmi_ editorial decision & it's okay. One step at a time for any journey. #breastfeeding

— Ardra Balachandran (@ardramaanasam) February 28, 2018
I fully support this campaign .. as a mother of two kids I have faced enough stares .. also some times babies don't like their face covered ..
it's a basic need for the infant .. ppl need to understand that .

— shifatd (@shifatd) March 2, 2018
Grihalakshmi's editor
Moncy Joseph tells BBC
the idea for the magazine cover came after the photo of a woman breastfeeding her child, posted on Facebook by her husband, went viral.
"A month ago, a man shared a picture of his wife breastfeeding on Facebook to start a conversation about letting mothers feed in public spaces. But the result was that the woman was subjected to cyber-bullying from both men and women," BBC quotes Ms Joseph as saying. "That is why we decided to dedicate our latest issue to breastfeeding mothers."
The magazine hopes the cover will continue a much-needed discussion around open breastfeeding. According to
The NewsMinute
, the magazine has even invited new mothers to share pictures of themselves breastfeeding their babies in public, promising to publish them in future editions of the magazine.Click for more
trending news