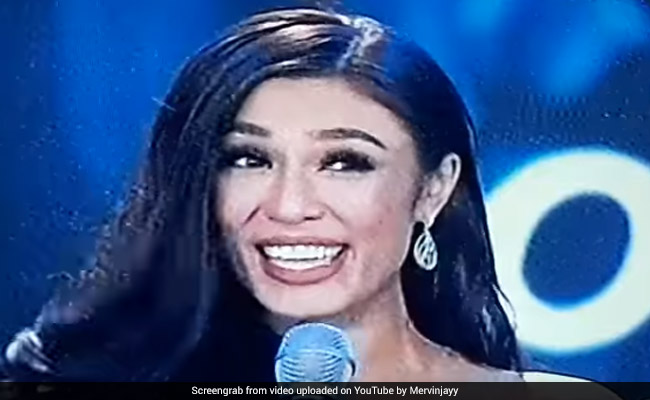 Remember the scene from Sandra Bullock's 2000 hit
Miss Congeniality
where when asked "What matters the most to you?", all contestants of the Miss USA pageant gave the cliched answer - "world peace". Beauty pageants are often accused of being scripted and contestants' answers rehearsed but a participant from the Miss Philippines competition is winning praise for her refreshingly honest answer during the Q&A round.
Sandra Lemonon was the first of the Top 15 contestants who were called upon stage for the question round of Binipining Pilipinas (Miss Philippines). The contestant was asked about her opinion about a government scheme.
"What are your insights on the government's 'Build, Build, Build' program?" the judge asked her.
Instead of a rambling rehearsed answer, Ms Lemonon admitted in front of thousands of audience members that she didn't know about the project.
"The insights of the government's 'Build, Build, Build' program. Actually, you know what, I studied so much for this Q&A, but sadly that's something that I don't know really much about. But, at least I'm here trying to answer a good question. Thank you!" she accepted graciously on stage.
The beauty pageant contestant's honest admission about not knowing the answer impressed host and 2015 Miss Universe Pia Wurtzbach who lauded the contestant.
"Oh, I love her honesty. That's better than lying," Ms Wurtzbach said.
Watch her answer here:
The contestant even found support on Twitter
Si Sandra Lemonon is me during an exam. No explanation needed#BbPilipinas2018pic.twitter.com/VQeXnvaYa0

- EliOliver. (@asdfghjklourdes) March 18, 2018
"I have prepared for this Q&A but I have no idea what to answer, so thank you.."

sandra lemonon is all of us when we studied all & night the exam consisted of NOTHING WE STUDIED FOR #BbPilipinas2018

- kaenashi (@hersummerdream) March 18, 2018
Be a Sandra Lemonon in this world full or pretentious and pabibos. #BbPilipinas2018

- Shin Mesina (@shimmysina) March 18, 2018
Sometimes, intelligence does not only require preparation. It requires honesty. Being intelligent is being honest in admitting that we don't know everything.
Cheer up Ms. Sandra Lemonon#BbPilipinas2018

- Jeffrey Rosel Abad (@abad_jeffreyr) March 18, 2018
Ultimately, Sandra Lemonon didn't win the contest but definitely won many fans.Click for more
trending news