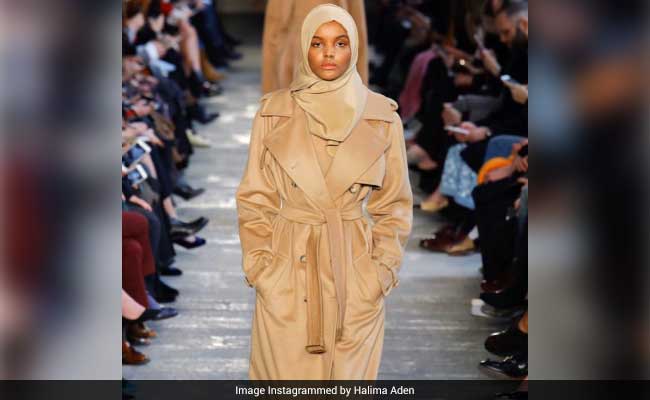 Halima Aden is challenging the status quo in every way possible. At just 19, the Somali-American has become the most talked about model in the last three months. People began noticing her after she competed in the Miss Minnesota USA pageant in November last year. The reason? She competed wearing her hijab and was fully covered up during the swimsuit portion of the competition. Aden is probably the first woman to rock a burkini in an American beauty pageant. America's Next Top Model? People in the business seem to think so! Oh, and social media loves her too.
Here are 5 things you should know about her:
1. She was born in a Kenyan refugee camp.
Halima Aden starts off Miss Minnesota USA's swimsuit segment to big cheers from the crowd. Announcer: "She's making history tonight." pic.twitter.com/OUvbHv6xct

— Liz Sawyer (@ByLizSawyer) November 27, 2016
That's the reason she wants to be a United Nations goodwill ambassador one day. "When I lived in a refugee camp... I remember being six and thinking, I want to be one of those women because I knew how much they helped us," she says. Aden moved to the United States with her family and grew up in St. Cloud, Minnesota - home to a large Somali-American community.
2. She's the first hijab-wearing model to sign with IMG Models.
Look at Halima Aden slaying in a hijab at Alberta Ferretti F/W17. #MFWpic.twitter.com/UR2QjF7dAV

— M. (@meenavoguee) February 22, 2017
Although Aden is not the first Muslim model to be signed by the world's top modelling agency, she is the first who wears a hijab and is "committed" to modest clothing. "I signed with the top modelling agency in the world and still wore my hijab as my crown," Aden wrote recently on Instagram.
3. Not only does she wear a hijab on the runway, she also rocks her braces.
Halima Aden, @IMG's first hijab-wearing model, makes debut at Yeezy: https://t.co/Bx1wo8gvbfpic.twitter.com/BWD07REUHP

— Oyster Magazine (@OysterMag) February 16, 2017
"(Braces) can make you insecure about your teeth. So I thought, What a great way to show people I'm not perfect. My teeth aren't perfect. But I'm still modelling," she tells The Cut.
4. The former editor-in-chief of Vogue Paris thinks she will become a fashion icon.
Me everytime I see Halima Aden on my TL: pic.twitter.com/5GetyI0ubw

— Boofis (@Kirmataqaana) February 22, 2017
Anyone who knows fashion, knows Carine Roitfeld. And if she says it, it's probably true. "Halima is breaking boundaries of beauty and perception by being herself. I find this incredibly inspiring, and I know she will be an icon," Roitfeld tells
The Business of Fashion
.
5. She's the first hijab-wearing model to appear on the cover of CR Fashion Book.
"People have the misconception that, as a Muslim woman, I am somehow against women wearing bikinis."-Halima Aden: https://t.co/uHtnhmuVhWpic.twitter.com/Rt1OrVZI4Y

— CR FASHION BOOK (@CRFASHIONBOOK) February 25, 2017
In the interview accompanying her cover shoot, Aden acknowledges the pressure of being a model who wears a hijab. "A lot of people had a misconception that I would be the perfect poster child for Islam," she says. "So I got a lot of Instagram comments like, 'Oh, you don't have your neck covered, you're not a Muslim!' My thing is, stop judging women, especially if you're a man, because you don't know the responsibility that comes with wearing a hijab."