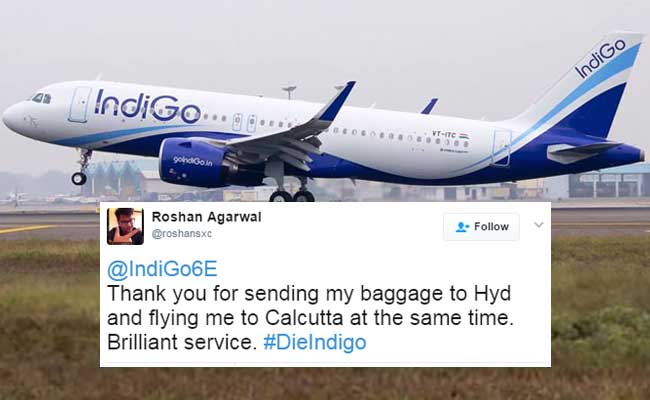 Highlights
Roshan Agarwal tweeted about his misplaced luggage to Indigo
-Brilliant service,- he wrote sarcastically in his tweet
Indigo missed the sarcasm, replied that they were glad to hear that
New Delhi:
Disgruntled customers taking to social media to air their grievances is nothing new, but this one incident takes the cake. On April 29, Twitter user Roshan Agarwal took to the micro blogging site to call out Indigo Airlines for misplacing his luggage. While Mr Agarwal flew to Calcutta, his luggage was sent to Hyderabad. "Brilliant service," he writes in his tweet sarcastically. Someone on Indigo's social media team, however, failed to spot the sarcasm and replied very sincerely to Mr Agarwal's irritated tweet.
@IndiGo6E
Thank you for sending my baggage to Hyd and flying me to Calcutta at the same time. Brilliant service. #DieIndigo

- Roshan Agarwal (@roshansxc) April 30, 2017
@IndiGo6E How dumb can you be? pic.twitter.com/2cOmxVz1wl

- Roshan Agarwal (@roshansxc) April 30, 2017
"Glad to hear that," said Indigo in a tweet that has since been deleted, but not before netizens took screenshots.
Predictably, people of Twitter facepalmed very hard at this oversight on Indigo's part.
@roshansxc@kitAnurag@IndiGo6E Oh @IndiGo6E, why? Why have you done this? Hope your SM team read full message rather than in hurry to reply using ready replies. #Fail

- Suresh Bhura (@SureshBhura) May 3, 2017
@roshansxc@kitAnurag@IndiGo6E LOL.

- WishKanya (@ViniGeance) May 3, 2017
In no time at all, in fact, the exchange between Mr Agarwal and Indigo Airlines went viral on WhatsApp.
Here We Go The Screenshot Of @IndiGo6E's Fantastic Reply @roshansxcpic.twitter.com/bj57RG7aR8

- (@Srijesh_Offl) May 3, 2017
On Twitter, the exchange has been retweeted over one hundred times, and counting.
What do you think of this social media faux pas? Let us know using the comments section below.
Click
here for more trending stories.