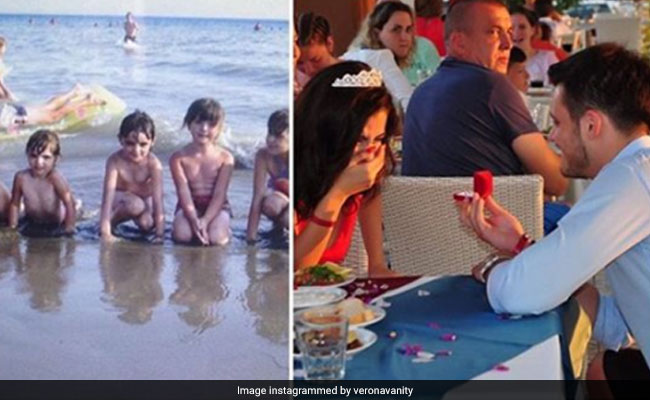 If you don't believe in "meant to be", this incredible love story should change your mind.
London-based Verona Koliqi recently got engaged to her partner of one year Mirand Buzaku. Like most couples, the two were going through childhood pictures together when her fiance noticed something in the background of an old beach photo of Verona and her cousins as kids.
"One day I was looking at this old beach photo that was taken 10 years ago and showed my fiance (now) the photo so we can have a laugh and run down memory lane. @mirandbuzaku being the type to look behind the photo he noticed the kid in the back had the same shirt, shorts and floaty as him ," she wrote in a post on Instagram.
To confirm Mirand's doubt, they both got in touch with their families and confirmed that it was indeed him in the background during a holiday.
According to
Yahoo
, both Mirand and Verona were at the same beach at the same time ten years before they got engaged. Mirand was visiting from Kosovo and she came from London. Years later, the pair finally met for the very first time in Kosovo in 2016 when she was visiting home (Kosovo) and happened to cross each other's paths. This time he wasn't in the background of her family photo.
"We exchanged looks every day we saw each other but did nothing," she told Yahoo.
Earlier this year in August, he proposed to her in Turkey.
Verona shared the throwback photo of both of them at that beach in Montenegro on Instagram juxtaposed with her engagement photo from August.
"The kid floating in my family photo is now my fiance", said the caption.
The photo has 31,000 likes on the photo-sharing platform with people gushing over their love story.
"Wow! time really brought you two together aww," wrote user "mmaddielima".
"arbesamakeup" wrote, "Coincidence, everything happens for a reason".
"Imagine going to the beach as a kid and not knowing your future husband is right behind you at the same beach, this is awesome, Haaya Rizvi summed up.
Your future partner could be around you, you just have to believe.Click for more
trending news