When Steve Crider, a senior recruiter at McKinsey, wrote about his experience of cold-calling a candidate about a new job opportunity, he probably didn't think it would resonate with so many people. And yet, one week on, his
post on LinkedIn
which explains why a candidate turned down a better-paying job is viral.
Mr Crider begins his post explaining how he cold-called a candidate with "all the right skills and qualifications" offering a "big step up" from his current role only to be flatly denied.
Confused, Mr Crider says he asked the candidate why he didn't want to take up the offer. "I pressed him on it until he said something that really confused me. He told me that he 'already made it to the top.'"
Mr Crider took a closer look at the candidate's resume. "He wasn't anywhere near the top. He would have needed a telescope to see the top. He wasn't even a manager yet," he writes on the professional networking site.
Then the candidate explained what "making it to the top" meant for him.
Read the
LinkedIn post
in its entirety below: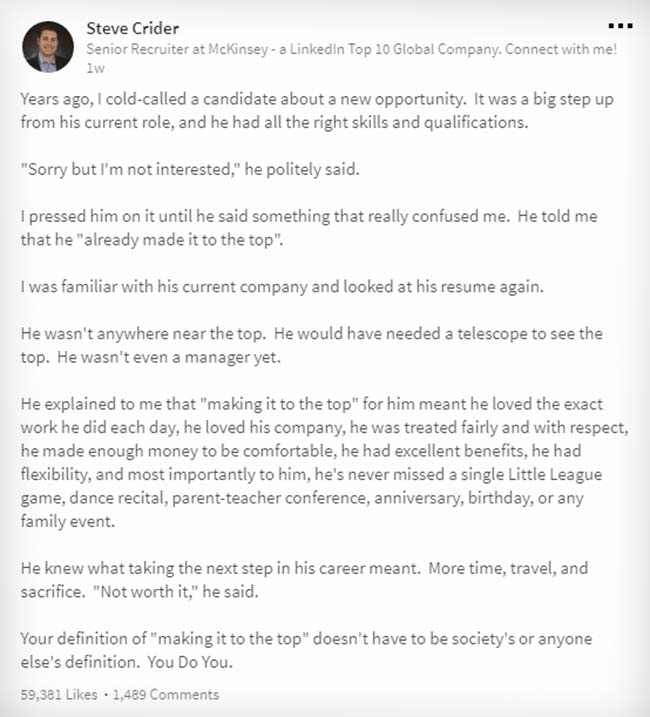 Millions
of people have viewed the post, which has been 'liked' well over 59,000 times. On Facebook,
a screenshot of the post
has been shared over 13,000 times already.
The post has provoked a flurry of reactions on LinkedIn.
"In my opinion, you can't put a price on the family moments that already go by way too fast! However, I do have the utmost respect for those in the workforce that carry those burdens so that some have the choice not to," writes one person.
"Nobody died regretting that they didn't spend more time in office," writes another.
"Each of us should find our own definition of success/happiness and be true to ourselves," says Mr Crider in a
follow up post on LinkedIn
. Click for more
trending news