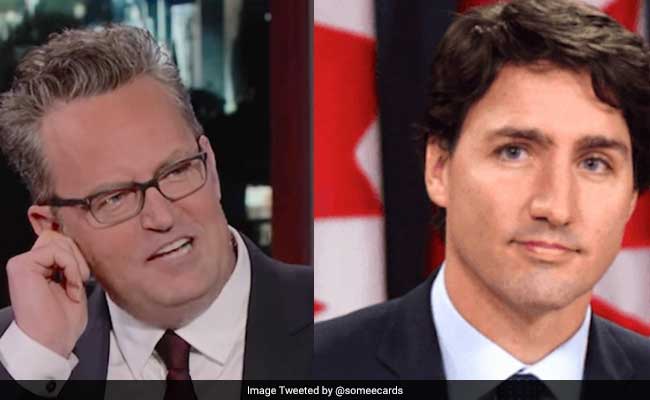 New Delhi:
Canadian Prime Minister Justin Trudeau has thrown down the gauntlet. Sort of. Ready for a rematch, Matthew Perry? In a lighthearted tweet aimed at the former
Friends
star, Mr Trudeau wondered out loud whether Matthew "Chandler Bing" Perry would be up for another bout, even asking "Who hasn't wanted to punch Chandler?" Ouch! In case you missed it, in an appearance on
Jimmy Kimmel's late night talk show
in March, the actor revealed that the two had attended the same school in Canada. Not just that, the actor and his friends even beat up the future Prime Minister once.
I've been giving it some thought, and you know what, who hasn't wanted to punch Chandler? How about a rematch @MatthewPerry?

— Justin Trudeau (@JustinTrudeau) April 1, 2017
Trying to decide whether you'd be #TeamTrudeau or #TeamPerry? Don't worry, you won't actually have to choose. Turns out Mr Trudeau's tweet was just a joke, as confirmed by his press secretary Gerald Butts. Whew.
Gotcha, @people. #poissondavrilhttps://t.co/XeHZ9ZQXLW

— Gerald Butts (@gmbutts) April 1, 2017
That "clarification" didn't stop Twitter from blowing up though
@JustinTrudeau@MatthewPerry I know that this is an April Fools joke, but I hope this happens for real. Hmm... #TeamTrudeau or #TeamPerry ?

— Jon Browne (@JonBrowne) April 1, 2017
okay but I'd actually pay to see a rematch between Trudeau and Matthew Perry https://t.co/Upw3aSOooo

— Heather (@h_elizabethb) April 1, 2017
@JustinTrudeau@MatthewPerry Yes, please. pic.twitter.com/Vx5DjXoS4Z

— BLGee (@BeeElleGee) April 1, 2017
@JustinTrudeau@AnthonyAmes1@MatthewPerry I'm putting my money on Trudeau #PrimeMinisterpic.twitter.com/j5BAJ3rygi

— Lauren Molloy (@TakeALark) April 1, 2017
@JustinTrudeau@MatthewPerry When the prime minister calls your bluff and you're totally not prepared pic.twitter.com/wrT2lSPPFL

— Jason And Candice (@crazyfarm2015) April 1, 2017
@JustinTrudeau@MatthewPerrypic.twitter.com/zKXmsTaKZe

— TurnipseedTravel (@turnipseeds) April 1, 2017
Mr Trudeau and Mr Perry both attended Rockcliffe Park Public School in Ottawa, Canada. The actor recounted his memory of beating up Mr Trudeau when they were students. "I think he was excelling in a sport that we weren't. It was pure jealousy."
Mr Trudeau's father, Pierre Trudeau, was Canada's Prime Minister at the time. "That was not the reason why we beat him up. He was the only kid in school we could beat up," the actor said.
"I am not bragging. I was a stupid kid," he admitted. The actor joked about the incident being instrumental in Mr Trudeau's success. "I think he said I'm going to rise above this and I'm going to become the Prime Minister," he laughed.
@JustinTrudeau@MatthewPerry Let's just agree this would be epic, but at the same time implausible. You two make up and hug like Canadians. pic.twitter.com/2Ot8K6kxoj

— Jozef Garcia (@jozefgarcia) April 1, 2017
Click
here for more trending stories
.