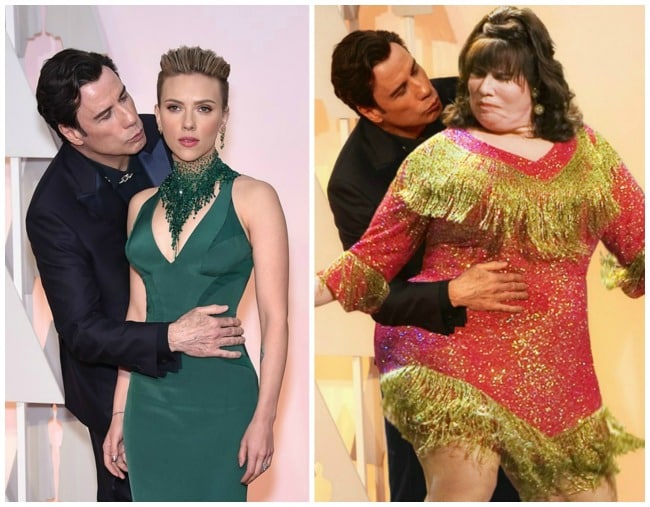 This was Grease of the oiliest sort. Actor John Travolta sidled up to Scarlett Johansson as she posed for photographers on the Oscar red carpet and tried to land a kiss on her cheek. By the time Scarlett realised what was happening, Travolta had started walking away. You are probably wearing the same say-what expression on your face that the Avengers actress did post-ambush.

John then went on stage and stroked co-presenter Idina Menzel's face, cementing his newly-acquired status as Oscar creep. He has, by now, earned the right to host his very own 'Forever Awkward' segment at the Academy Awards.

While ScarJo collected her scattered wits, social media moved like Greased Lightning into action. The resulting memes will give you chills for they are rather electrifying and prove that no matter who takes the Oscar home, the real winner is the internet.

Read more: Oscars 2015: John Travolta Creeps Out Scarlett, Idina and Twitter

The Face Off star, whose face now deeply resembles Madame Tussaud's wax statue of him, is now a fast-rising internet icon with Redditors engaged in Photoshop battle in his name.


Here's the truth behind the John-Scarlett Oscar incident, as told by internet:
John was just passing by when he noticed that Scarlett was looking pale. So he re-did her blush, like any good friend would.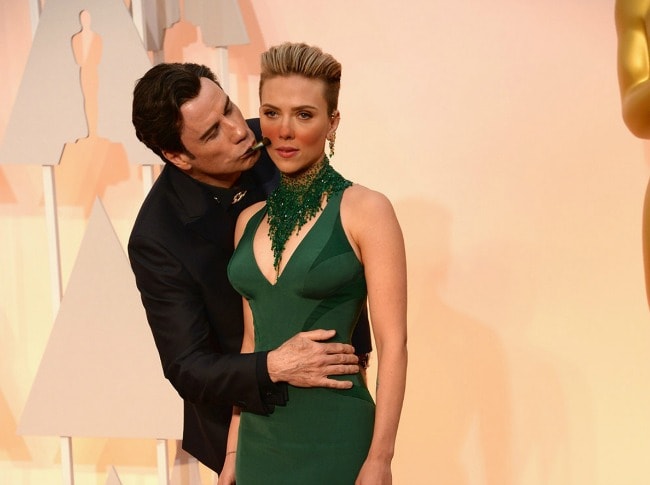 Source:
ThrobinWigwams
Scarlett wanted to fight the bad guys. John didn't want her to get hurt. So he tried to hold her back.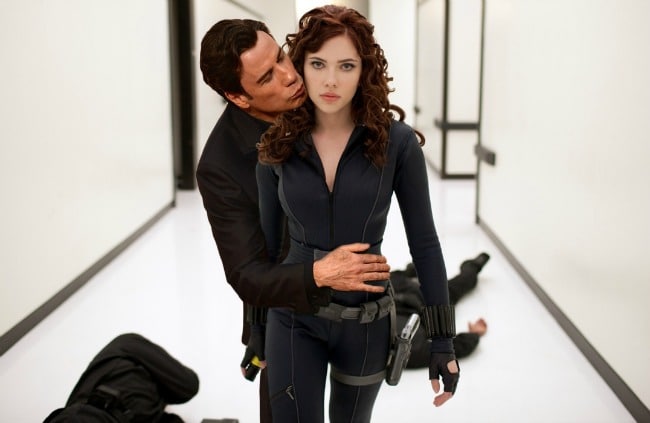 Source: randy05/Reddit

She looked lonely so he decided to be her dance partner. That ought to cheer a gal up. Right?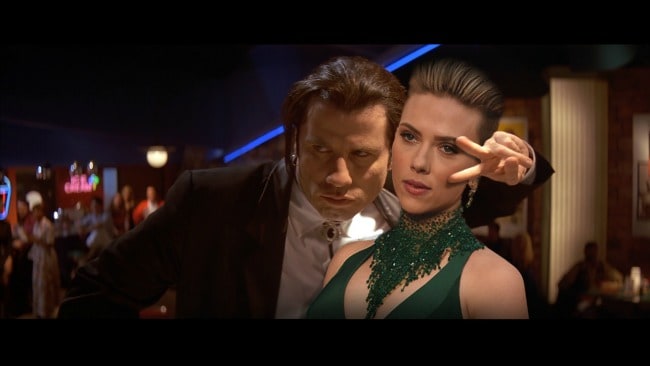 Source: XYZ

Travolta was just showing everybody how to be a real tourist at the Statue of Liberty.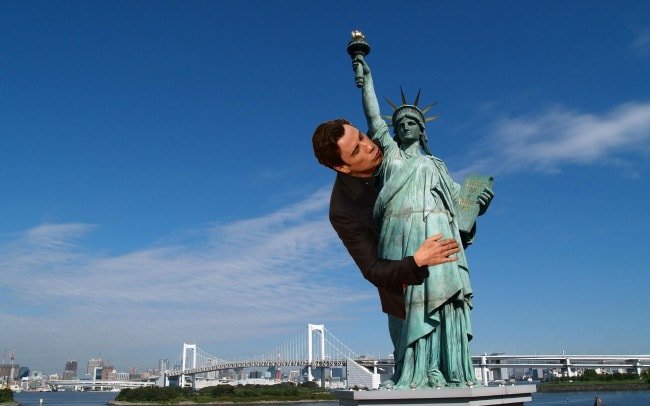 Source: TheBlazingPhoenix/Reddit

Those Dementors did NOT do a good job in the Harry Potter series. Here's John masterclass in acting.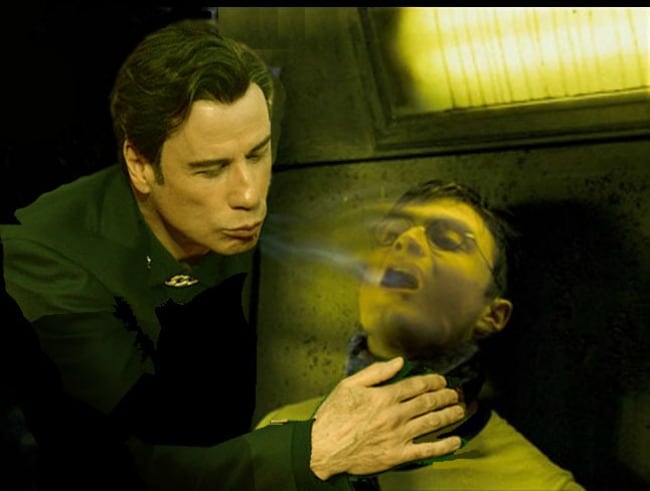 Source: GPrime85/Reddit

Voldemort's silly no-nose acting was no good either. Presenting the ever-helpful John and his protegee, Draco Malfoy.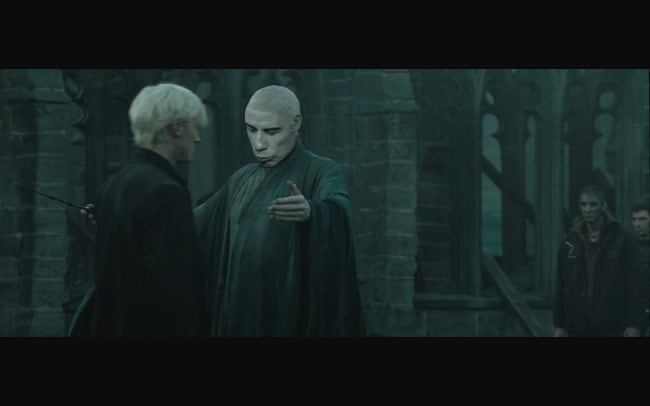 Source: carnivalride/Reddit

Tom Cruise lacked swag. Here's John, adding glamour to the red carpet.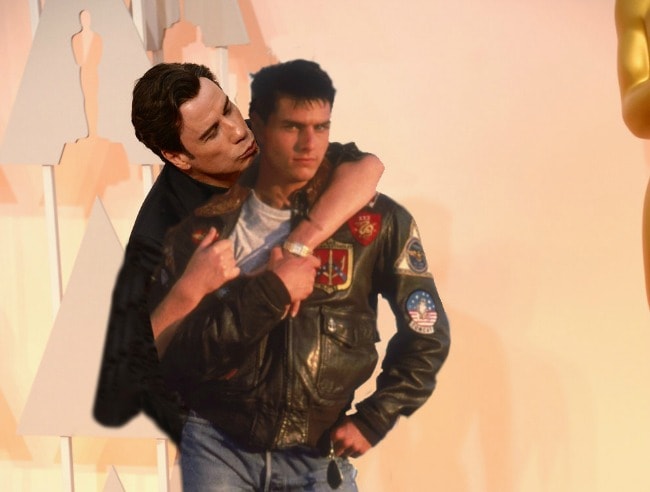 Source: SubwayKittens/Reddit

OHHH. You see now? He was just showing us what Leonardo wants. What he really really wants.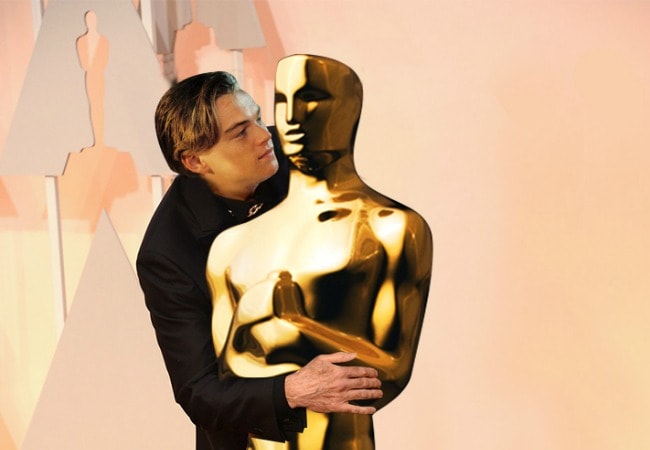 Source: onnix/Reddit

He was trying to show that iconic war veteran how the Hollywood kiss is really done.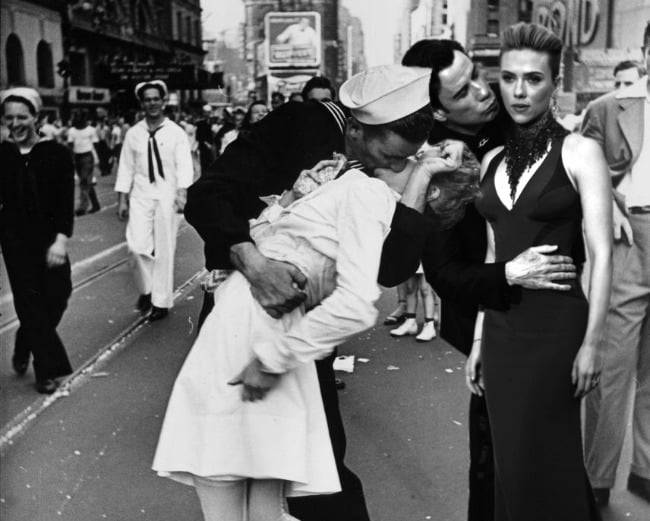 Source: conderhoschi/Reddit

He was teaching us how to accept everyone as they are.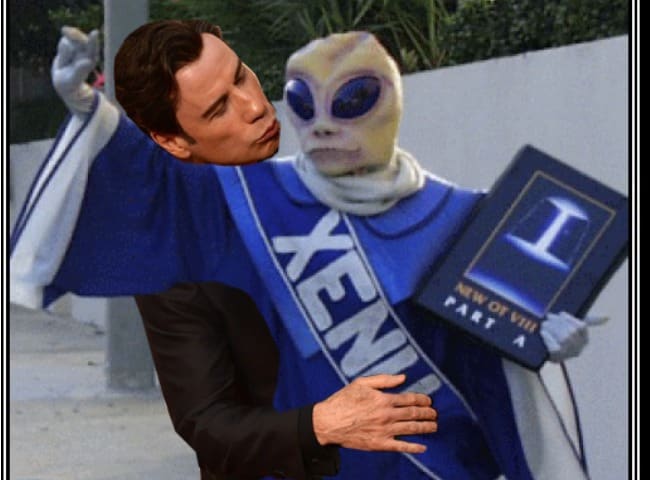 Source: riceomatic69/Reddit


The internet thinks Travolta loves Travolta more than Kanye loves Kanye. And here's all the proof you'll ever need.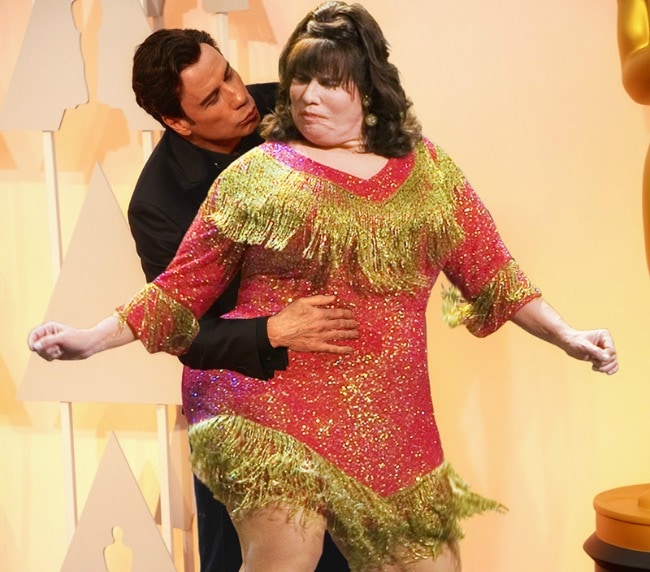 Source:
hoodmizzou/Reddit
Travolta first discovered that he had the talent for creating Oscar buzz at the 2014 Academy Awards when he introduced Idina Menzel as 'Adele Dazeem.' The Frozen singer extracted sweet revenge at this year's Oscar when she introduced Travolta as 'Glom Gazingo.'
We refuse to discuss the awkward face-touching that followed her introduction because we're desperately trying to unsee that bit of horror. Why so Travolting, John?