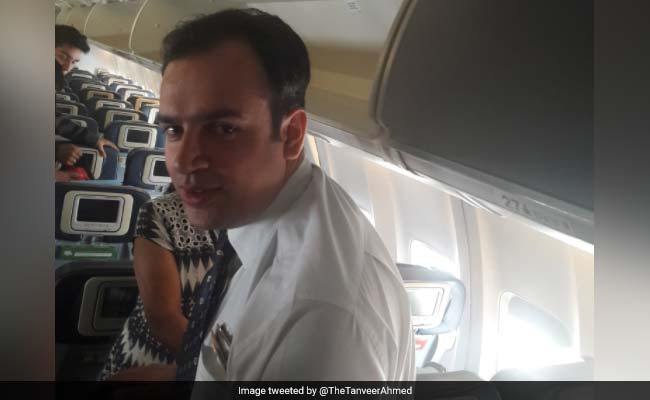 New Delhi:
A Jet Airways crew member who helped a passenger suffering a mid-air medical emergency has been praised for his "heroic" efforts. Another passenger onboard the flight tweeted a photo of the crew member, identified only as Amandeep, saying he worked for "over an hour" to help the passenger. The photo has been retweeted close to 2,000 times in just two days and has earned Amandeep plenty of praise on social media.
Tanveer Ahmed, who is also a national spokesperson for JD(S), wrote on Twitter that while he was onboard a Jet Airways flight from Bengaluru to Delhi, a passenger suffered a cardiac arrest. Immediately, Amandeep rushed to help, working for "over an hour" to ensure the passenger survived. "He literally saved his life," Mr Ahmed tweeted on Thursday. "To me, Amandeep is a hero."
Today I travelled in @jetairways 9W0973 a passanger had a cardiac arrest, Amandeep working with jet worked for over an hour to ensure the patient is alive. He literally saved his life to me Amandeep is a hero @republic@TimesNow@BDUTT@sambitswaraj@narendramodi@ndtvpic.twitter.com/wfisn3EdMF

— Tanveer Ahmed JDS (@TheTanveerAhmed) March 22, 2018
Jet Airways was quick to respond to Mr Ahmed's tweet, saying the company was "proud" to have Amandeep as part of their crew.
Glad to hear our guest is safe. We're so proud to have Amandeep as our crew. Thanks Tanveer, for sharing this with us.

— Jet Airways (@jetairways) March 22, 2018
Detailing what happened to NDTV, a Jet Airways spokesperson explained that Amandeep began administering first aid after seeing the unwell passenger.
"Crew took an update of the guest's medical history from a family member accompanying him and administered medication and oxygen as per the laid down procedures," the spokesperson said, adding a nurse who happened to be travelling on the same flight assisted in keeping the passenger's health in a stable condition.
"Captain of the flight requested for priority landing in Delhi and upon landing, Medanta doctors boarded and checked on the guest," the spokesperson added. The passenger is reported to be in better health now.
Immediately, praised poured in for the Jet Airways staffer.
We need more people like him.

— Narenpal Singh (@narenpalsingh) March 23, 2018
True is the adage, that .. not all heroes wear capes. Some wear uniforms!

— Hmm (@chaturkauwa) March 22, 2018
Just another Day in the line of Duty for a Cabin crew. Well done Aman.

— Rajat Khetarpal (@khetarpalrajat) March 23, 2018
Amandeep, you are my hero for today ! This is much much beyond your job description. Hope jet acknowledges this feat in equal measure. Such people are the best ambassadors for an org than the millions they spend on ads.

— Roy Kurian (@Roy72kurian) March 24, 2018
I appreciate amandeep for his hour long help/struggle to save a life . Such employee to be motivated by Jet by giving appreciation certificate / kind of rewards in a meeting. Hats off to aman. God bless you

— PALANICHAMY M (@PALANICHAMY1961) March 24, 2018
Thanks for your support and encouragement! Crew like Amandeep are truly an asset to us. We're proud of him.

— Jet Airways (@jetairways) March 24, 2018
"At Jet Airways, safety of our guests is a priority, and... is inculcated in the training of all crew members from the very outset," the spokesperson added.Click for more
trending news