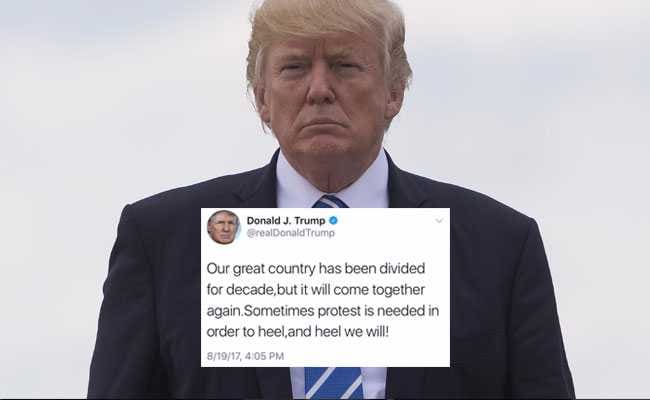 Another day, another storm in the tweet-cup, and all because of one word. US President Donald Trump has once again found himself at the receiving end of Twitter's ire and mockery after he misspelled the word 'heal' twice in two tweets. And while the tweets were deleted and reposted correctly, Twitter can neither forget nor keep calm and carry on. Now screenshots of the original tweets are doing the rounds of the micro-blogging site, with many trolling the US President for the gaffe.
Here's what Mr Trump had tweeted:
At 4:05pm ET POTUS tweeted, then deleted this statement, encouraging the nation to... #heel. pic.twitter.com/0AWsxFY0st

- errol barnett (@errolbarnett) August 19, 2017
The tweet was deleted and reposted like this:
Update: At 4:34pm ET POTUS reposted earlier statement changing "decade" to "decades" and again calling on the nation to #heel. pic.twitter.com/HiOyrDxaXn

- errol barnett (@errolbarnett) August 19, 2017
He eventually corrected the spelling of the word 'heal' and tweeted again:
Our great country has been divided for decades. Sometimes you need protest in order to heal, & we will heal, & be stronger than ever before!

- Donald J. Trump (@realDonaldTrump) August 19, 2017
Twitter has since gone into overdrive tweeting about the typo, reacting pretty much the same way when
Mr Trump accidentally tweeted the word 'covfefe'
.
Among those mocking Mr Trump is none another Merriam-Webster dictionary.
heal (to become healthy again)
heel (a contemptible person)
he'll (he will)

- Merriam-Webster (@MerriamWebster) August 19, 2017
The tweet has collected over 40,000 'likes' and more than 15,000 retweets so far - and still counting.
Meanwhile, several others are tweeting about the heel-heal fiasco.
In his latest tweet, Trump commands America to heel.

- Stephen King (@StephenKing) August 19, 2017
Trump: I want to tail all of you laughing at me for misspelling heel that innyone can make a missteak! Sew, git off my ass.

- keith hall (@kfhall0852) August 20, 2017
Do not forget. Misspellerinchief #realdonaldtrump wrote heel for heal 4 times in 2 tweets & he wants english only immigrants. Ignorant!

- Antonio G Pizarro (@apoloniohombre) August 19, 2017
The very sole of our nation depends on it pic.twitter.com/PDTtZHO827

- Gene Demby (@GeeDee215) August 19, 2017
Trump makes the same spelling mistakes two tweets in a row. pic.twitter.com/N5q7TaKk9i

- Erick Fernandez (@ErickFernandez) August 19, 2017
Let's unite and #heel this country.

Over covfefe.

- Jeff Giesea (@jeffgiesea) August 19, 2017
Aide: Sir, typo
Trump: Fixed it
Aide: No still there, "heel"
Trump: Yea, heel!
Aide: You mean "heal"
Trump: No I dont
Aide: Gimme your phone pic.twitter.com/uwzo8kzKKP

- maura quint (@behindyourback) August 19, 2017
Click for more
trending news