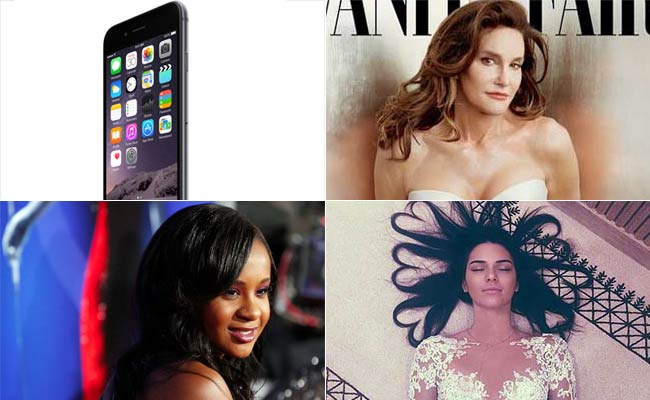 Internet giant Yahoo has released their list of top 10 searches made in 2015.
Among the predictable celebrity searches (three members from the extended Kardashian family), one topic stands out on the search engine's end-of-year list. It's the iPhone.
The list puts the Apple phone on the coveted number two spot - the only other non-celebrity to make it to this list is popular video game Minecraft at fifth position.
Here's a look at all the 10 top searches on Yahoo this year:
1. Bobbi Kristina Brown:
The tragic and untimely death of Bobbi Kristina Brown, daughter of late singer Whitney Houston, was most-searched on Yahoo this year. She was found unresponsive in her bathtub in her home on January 31 and spent months in hospital, unconscious. She died on July 26 and was only 22.
2. iPhone:
One of two non-celebrity topics on this list, the Apple iPhone was the second most-searched topic this year. According to
Consumer Intelligence Research Partners
, over 100 million iPhones are being used in the United States alone. The firm also noted that nearly two-thirds of those are, in fact, newer models such as the iPhone 6, released in September this year. No questions on the iPhone's popularity then, right?
3. Caitlyn Jenner:
Keeping up with the Kardashian-Jenners was a full time job this year. Former Olympian Bruce Jenner's transition to Caitlyn Jenner made global headlines and set social media a-Twitter.
4. Kendall Jenner:
Kim's little sister was actually more-searched than she. Kendall not only crushed it on Instagram this year - her photograph with her hair arranged in hearts is the most liked Insta-pic of 2015 - she was also among the top five searches on Yahoo.
5. Minecraft:
The only other non-celebrity on this list. The game has sold over 50 million copies and has a huge fanbase.
6. Jennifer Aniston:
The former
F.R.I.E.N.D.S
star's secret wedding to actor and director Justin Theroux in August landed her the sixth spot on the list.
7. Kim Kardashian:
After documenting her struggle to conceive on social media and her show
Keeping Up With The Kardashians
, Kim announced earlier this year that she was pregnant for a second time. She revealed on Instagram that she and her husband Kanye West were expecting a boy in June 2016.
8. Katy Perry:
Her performance with dancing sharks at the Super Bowl Halftime Show, her comments on the famous Taylor Swift-Nicki Minaj Twitter feud and more made Katy one of the top 10 searches on Yahoo.
9. Ronda Rousey:
The mixed martial arts champ not only featured in films like
Furious 7
and
Entourage
, she also made headlines for her stunning knockout loss to Holly Holm at the mixed martial arts event UFC 193.
10. Farrah Abraham:
The reality TV star, best known for the show
Teen Mom
, was the tenth most searched topic on Yahoo this year.