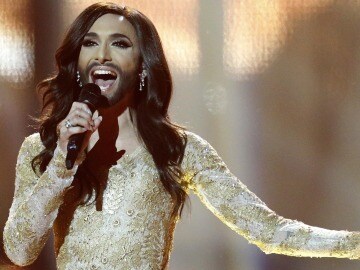 Vienna: After a whirlwind year that saw her win the Eurovision Song Contest and perform at the European parliament and United Nations, "bearded lady" Conchita Wurst is headed for the recording studio but doesn't rule out hanging up her stiletto heels in the coming years.
"There was just no time till now (to record an album) because there were so many great invitations, so many great opportunities that I couldn't miss out, I wanted to meet all these people, do all those things," the Austrian diva said in an interview with selected media, including AFP.
The album, due to be released in the spring although no date has yet been set, will have a more modern sound and move away from the James Bond theme song style of her Eurovision hit "Rise like a Phoenix."
Offers came in from songwriters around the world, "and that's just so great that people see something in me that they think is interesting enough to send me their stuff. Because those songs are their babies."
Conchita Wurst, the alter ego of Tom Neuwirth, captured hearts around Europe and even beyond with her Eurovision win, despite a certain backlash over her sexuality and look, combining a black beard with a long glossy mane and never-ending eyelashes.
Flush from her success, she has performed at London's Trafalgar Square, modelled for Jean-Paul Gaultier at Paris fashion week, and is the German voice of owl
Eva
in the Dreamworks film "
Penguins of Madagascar
."
Next up is an invitation to the Golden Globes in Los Angeles on January 11, "and obviously I need to go!" even if that means putting her recording schedule briefly on hold.
"It can be over in just a second," she said of her success. With her message of tolerance and anti-discrimination, Wurst has been seen by many as an ambassador for gay rights. She also performed this year in front of the EU parliament in Brussels and for UN chief Ban Ki-moon.
But she insists: "I don?t see myself as a political figure. I just want everybody to be respected. It shouldn't be politics because for me it's not, one of the most natural things in our society should be to be respectful." When Wurst, who says she would love to sing a James Bond theme song, hangs up her wig, skintight clothes and stiletto heels remains to be seen.
"Maybe in 20 years, maybe next year, I have no idea... I love what I do, I love being Conchita, I love dressing up, doing my make-up."
"As Conchita, I've got everything that I need to be glamourous and in the spotlight, giving interviews, doing photo shoots. And on the other side, there's Tom, this shy, boring boy. And I love to be shy and boring when I'm in private. So I will do it as long as it's fun."
The day she turns into a "bitter old drag queen," she will know it's time, Wurst said.