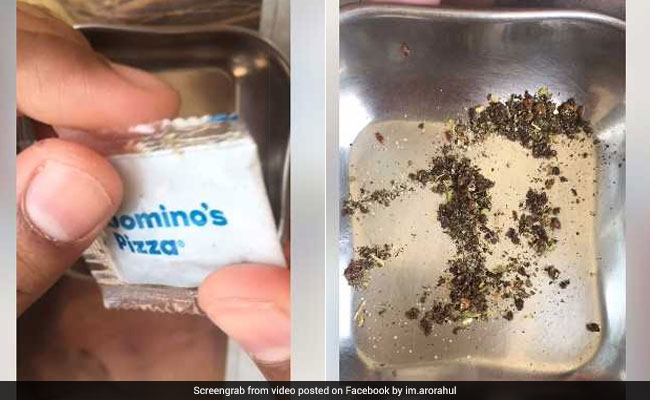 A stomach-turning video of live insects crawling out of a Domino's Pizza seasoning packet has been posted on Facebook. The video has been shared by Delhi resident Rahul Arora, who has posted it has a warning to others. "#BEWARE! All lovers of Domino's Pizza India's oregano seasoning, like myself. This is what they make you eat," he says on Facebook. The pizza chain, on Facebook, has since apologised for the incident and said they would investigate the matter further.
In his video posted on September 10, Mr Arora claims he ordered a pizza online on Friday evening but only noticed the insects in the oregano sachets the following morning. "The insects are very tiny and can be easily mistaken for herbs as they don't move much and have similar texture to that of the herbs. It's only when I suspected something wrong and poked the seasoning with my finger to check, that they scattered," Mr Arora tells NDTV. He says he found the insects in four remaining sachets.
Here's what Domino's Pizza has said on Mr Arora's video:
Mr Arora claims he later received a call from the pizza joint offering to 'replace his order'. "I told them that it's not a late home delivery complaint. We fell ill on consuming their contaminated food. The issue should not be trivialised," he tells NDTV.
The customer says he has filed a complaint with Department of Consumer Affairs, as revealed in comments section of his post, and is waiting for their response. "I wonder what would have happened if this happened in the US," he tells NDTV. "The
chalta hai
attitude towards Indian consumers should end," he adds.
In a statement to NDTV, Domino's Pizza says they maintain the strictest hygiene and quality standards in their products and processes.
"We would like to reassure you that we have thoroughly checked oregano sachets in our restaurants and across our value chain. We have found them to be safe for consumption," says a company spokesperson in a statement to NDTV.
"We understand that our consumers love our oregano seasoning. We request everyone to please store any leftover sachets under proper storage conditions," adds the spokesperson.Click for more
trending news