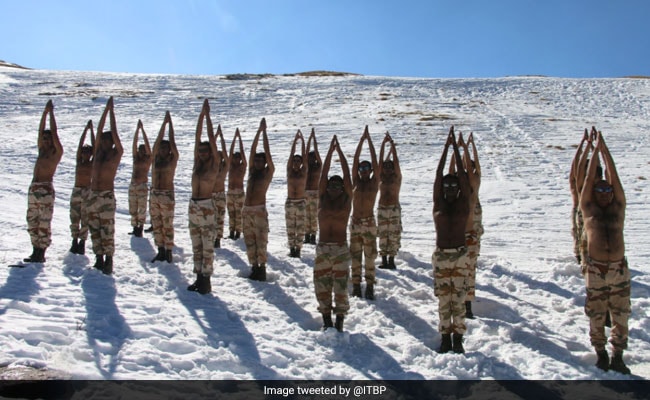 Stunning pictures tweeted by the Indo-Tibetan Border Police, or the ITBP, show a number of soldiers doing yoga in the Himalayas. What will amaze you is that in two of the pictures, the personnel are bare-bodied while performing yoga, despite the freezing temperatures. The pictures, tweeted last night, are being appreciated by many on Twitter as examples of the ITBP personnels' endurance, strength and fitness levels.
See the incredible pictures for yourself:
#Himveers of #ITBP in the #Himalayas#Yogapic.twitter.com/hexTsrp4eB

— ITBP (@ITBP_official) February 22, 2018
"That's a great training and conditioning routine to maximize overall performance," notes one person on Twitter. "I salute their spirit," comments another.
"Goosebumps! It makes me more prouder as an Indian after watching heroism of Real Superheroes," tweets a third.
ITBP often tweets photos of its personnel undergoing special yoga training sessions in high altitude areas.
Special #yoga#training sessions/ courses for #Himveers in #HighAltitude areas in #Ladakh#Himalayaspic.twitter.com/MHfOcIw16w

— ITBP (@ITBP_official) November 5, 2017
This summer, on International Yoga Day, the border guarding personnel performed yoga at 14,200 feet in Ladakh.
#YogaDay#ITBP men practicing Yoga at 14200 Fts somewhere in Ladakh@moayush@PIB_India@TOIIndiaNews@MIB_Indiapic.twitter.com/t0u0XYpwnR

— ITBP (@ITBP_official) June 21, 2016
On Republic Day, the Himveers hoisted the national flag in the Himalayas, braving the unimaginably harsh weather.
Happy #RepublicDay2018 from the #Himveers from the icy heights of the #Himalayas...
#ITBP@PIB_India@MIB_Indiapic.twitter.com/asBVTYnKsX

— ITBP (@ITBP_official) January 26, 2018
The
mountain-warfare trained force
, under the command of the Union Home Ministry, is deployed from the Karakarom Pass in Jammu and Kashmir to Jechap La in Arunachal to guard the 3,488-km long Line of Actual Control (LAC) across 5 states. Its border posts are located at altitudes ranging from 3,000-19,000 feet.Click for more
trending news