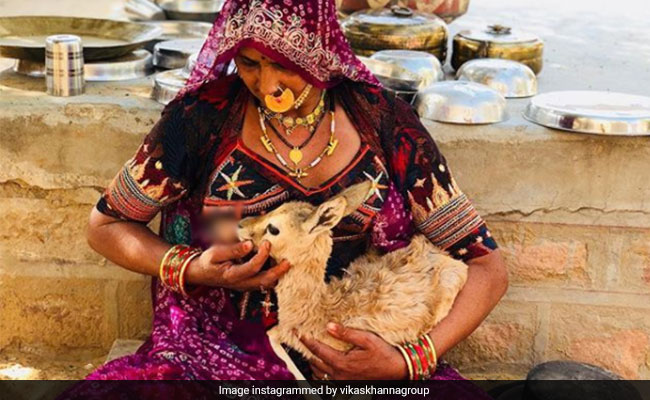 New Delhi:
A stunning image posted on social media by Michelin-starred chef Vikas Khanna shows a woman tenderly breastfeeding a baby deer. Chef Khanna writes on
Twitter
and
Instagram
that the woman, a member of the Bishnoi community, told him she had similarly breastfed and saved many orphaned and injured baby deer. The Bishnoi women have a long and powerful tradition of nursing fawns like their own children. Unsurprisingly, the remarkable image has captured the Internet's attention, collecting over 13,000 'likes' on Instagram within hours of being posted.
The picture shows a woman in a traditional
bandhini lehenga
and
choli
holding the young fawn as it suckles her breast.
On
Instagram
, Chef Khanna writes the unnamed woman told him that "the greatest form of humanity is compassion." He adds she revealed she had "breastfed and saved many orphaned and injured baby deers in her life in the deserts of Rajasthan, India." The restaurateur, cookbook author and former judge of the popular show,
Masterchef India
, adds the hashtags #HighestRespect and #BelovedIndia.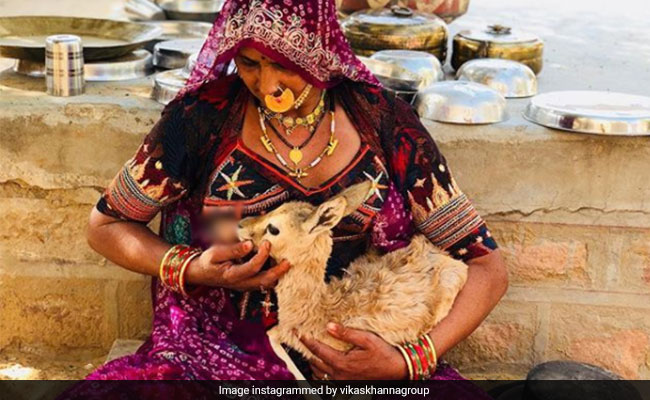 A spokesperson for Chef Khanna tells NDTV the picture was taken earlier today near Jodhpur, where the New York-based chef is conducting research for an upcoming project called
Beloved India
.
"There is a true sense of compassion for nature, be it the trees or animals," an emotional Chef Khanna says, calling the Bishnoi community an "inspiration" and what he witnessed the "truest form of motherhood and compassion."
As a community, the Bishnois believe strongly in protecting the environment and wildlife. They are known for their love of chinkaras and deer. The community doesn't let poachers hunt animals in areas where they live - mainly western Rajasthan - and also protect trees. In fact, the famous forest conservation movement known as the
Chipko
movement is believed to have been inspired by a woman from the Bishnoi community.
No wonder then that netizens are left in awe of the picture.
"Bishnoi women have always been ahead of time as seen in the Chipko movement too where they were the mainstay. More power to them," writes one person on Twitter. "This is indeed the highest... form of humanity. She is a mother to be venerated and honoured. Bishnoi community has always treated blackbucks as their own children," tweets another.
"I knew about their love for wildlife but this is something out of the world! Thanks so much for this post," comments one person on Instagram. "This is the height of humanity... great woman she is," writes another. Click for more
trending news