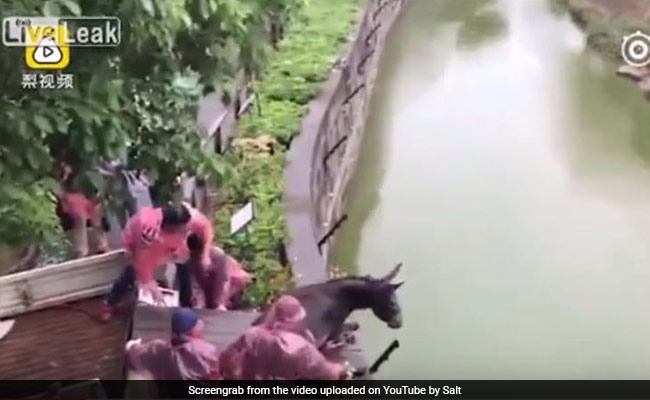 In a horrifying
video
that has gone viral, a donkey was thrown inside a tiger enclosure in a zoo in China as witnesses watched on in shock.
In the video, at least five men in raincoats are seen pushing down the hapless donkey into the water. The donkey can be seen resisting, but is forcibly thrown into the moat around the tiger enclosure at the zoo in Changzhou.
One of the tigers jumps into the water to grab the donkey. Moments later, two tigers attack the donkey that is no match to the hungry predators.
According to
reports
, the donkey died after being mauled by the tigers for over half an hour.
According to
South China Morning Post
, a shareholder, in dispute with the zoo, was responsible for the incident. The shareholder allegedly planned on selling the animals as the zoo had been making losses. When the shareholder was stopped from taking the animals from the zoo, he asked a group of men to throw the animals in the enclosure. The shareholder reportedly planned to throw a
sheep
in the enclosure as well but was prevented by visitors and security officials.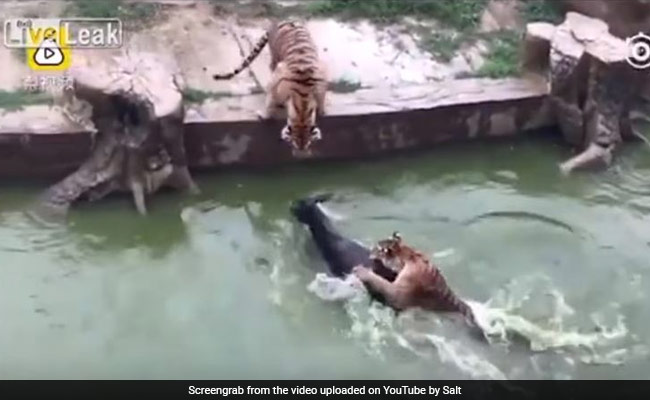 The video has sparked angry reactions online and criticised the culprits for using the animal for their agenda.
"Shouldn't be made a public showcase..I understand animals kill and eat in the wild but this pure cruelty to show this as entertainment," wrote a YouTuber.
"This is not nature. In the wild animals have a chance to escape," said another.
"This is barbaric and has no place in a zoo which is supposed to look after animal welfare. No one can dispute that tigers hunt in the wild but their prey always has a chance at getting away," said another comment.
According to
ABC
, the zoo said it had "launched emergency procedures" to control the situation and was meeting with shareholders to reach a consensus to prevent any such incidents in the future.Click for more
trending news