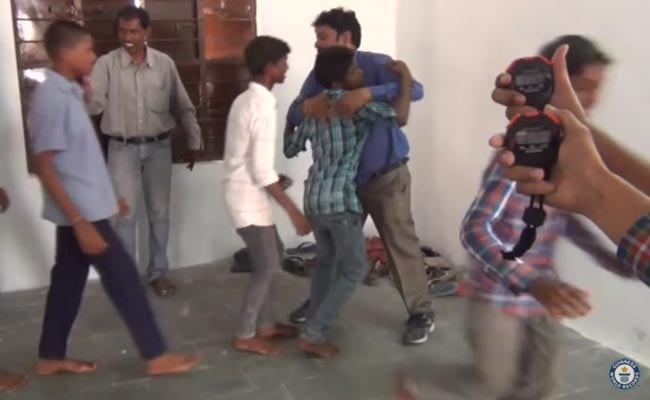 Highlights
Krishna Kumar broke the Guinness World Record for most hugs in a minute
The Hyderabad resident embraced 79 people in the speed-hugging challenge
The record was previously held by Carrie Bickmore from Australia
Remember the entertaining and nail-biting show
Just Ek Minute
hosted by Omung Kumar way back in the '90s? Chances are you'll get major flashbacks of the show when you watch this video of Hyderabad resident Krishna Kumar breaking the Guinness World Record for, get this, most hugs in a minute. Even if you don't remember the show (millenials, this means you), watch the video anyway.
The video, posted on the official Guinness World Records YouTube channel on May 24, shows Mr Kumar embracing (somewhat comically) 79 people in the speed-hugging challenge to set the new world record. It was previously held by Carrie Bickmore from Australia.
"Krishna attempted to hug 83 people but unfortunately the Guinness World Records records management team was forced to disqualify a number of squeezes which were more headlocks than hugs," says the
official website
.
The video shows a determined Mr Kumar, ready to take on the big challenge before him - queue of some 88 students all waiting for their hug. Kudos to the lot for being so disciplined and helping Mr Kumar out like this, who by the way, only smiles once the record is broken. Even spreading love is a serious job, people.
The video makes for a really cute watch. Don't be surprised if your brain randomly starts playing Madhuri Dixit's
Ek Do Teen
while you're watching the video. Take a look: