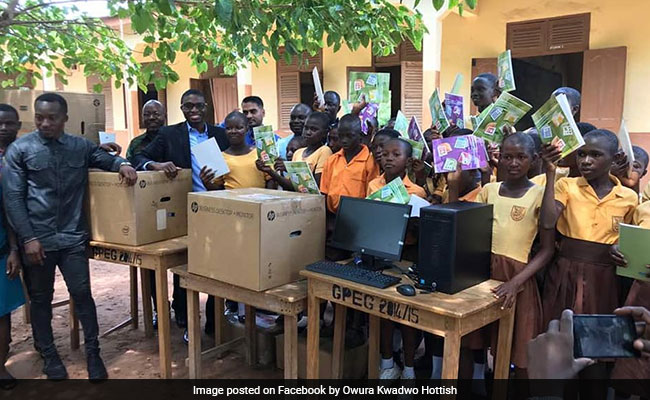 New Delhi:
The Internet can be a cruel place but heartwarming stories like these help change that narrative. Last month, an information and communications technology teacher went viral for his dedication to teaching his students. Pictures of Ghana's Richard Appiah Akoto - who goes by the social media pseudonym Owura Kwadwo Hottish -
teaching his students Microsoft Word by drawing it in chalk on a blackboard
touched a chord with millions. But online praise isn't the only good thing to come out of this viral story. Thanks to Mr Akoto's commitment and effort, the school has received a number of laptops and computers from donors across the world, including from an Indian multinational company.
Last month, Mr Akoto, a teacher at Betenase Municipal Assembly Junior High School in the town of Sekyedomase in rural Ghana, posted pictures of himself in class on Facebook. The pictures show an incredibly detailed rendering of Microsoft Word done painstakingly in chalk on a blackboard.
The pictures immediately went viral and earned him praise. It also prompted many people and organisations - including Microsoft and India's NIIT - offering donations and help to his school.
The first donation came from a Saudi Arabian PhD student from the University of Leeds in the UK who sent Mr Akoto a laptop "as a small gift to his students."
"I always understand from the teachings of Islam that useful knowledge is crucial for the benefit of the self and humanity," CNN quotes Amirah Alharthi as saying. "Also, I am thinking of how much genius people the world has already lost because these people did not have the fair opportunities comparing to others and that makes me very sad."
NIIT Ghana - a subsidiary of the Indian firm - donated five new desktop computers and textbooks to the school and a personal laptop to Mr Akoto.
"We saw the news getting viral on Facebook and other social media platforms. We were so touched by the teacher's dedication to his students that we decided to support the school with the best we could do as an IT training organisation,"
Hindustan Times
quotes Ashish Kumar, the NIIT centre manager in Accra as saying. "We took a printout of the post, pasted it on our notice board and discussed the matter with our group CEO Kapil Gupta. He is the one who decided to sponsor five new desktops and books for the school and a new laptop for the teacher as a part of our social and corporate responsibility."
Microsoft flew Mr Akoto to Singapore to attend the annual Microsoft Educators Exchange. The company says it's committed to providing the school with a full computer lab and is in talks with Ghana's Ministry of Education for the same.
"Something very positive has come out of this and I am very happy," Mr Akoto tells
Microsoft Asia
. "We are no longer going to use the chalkboard again. We will have computers."Click for more
trending news