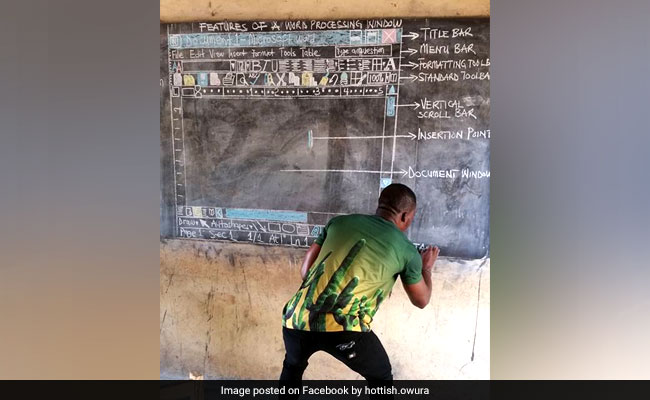 An information and communications technology teacher hasn't stopped the lack of computers at the school he teaches in keep him from teaching his students about computers. How he does it is nothing short of inspirational. Photos that are viral show Ghana's Owura Kwadwo Hottish teach his class Microsoft Word by drawing it in chalk on a blackboard. The teacher's commitment and effort are drawing lots of praise on social media.
Mr Hottish, a teacher at Ghana's Sekyedumase Senior High School, posted pictures of himself in class on Facebook. The pictures show an incredibly detailed rendering of Microsoft Word - all done painstakingly in chalk on a blackboard. In the comments thread, he explains it took him nearly half of a 70-minute lesson to draw it.
The pictures of the teacher, shared over 1,000 times in the past two weeks, have moved many for his dedication to his job.
"Great man, you deserve an award," comments one person on the Facebook post. "This is the epitome of commitment. God bless you sir," comments another.
"Good job Bro. But if you have a personal laptop you can try teaching with it. It will help your students better," recommends a third.
But the post has provoked some anger as well, with many asking why Mr Hottish was reduced to doing so in the first place.
"This is so heartbreaking in the 21st century," writes one person.
Mr Hottish, on his part, thinks the situation in Ghana is slowly improving. "The government is helpful and I believe in them, they are trying to make ICT better for the teachers and students," he tells
Bored Panda
.
Since the post went viral, offers for donations of laptops, computers and projectors have poured in from around the world.
Moved by the numerous offers of assistance, Mr Hottish says he'd like to help out other schools facing the same problem in the area. "There are many schools facing this same problem," he tells Bored Panda. "I can also help out and give some of the donations to them, so they can also benefit through teaching ICT."Click for more
trending news