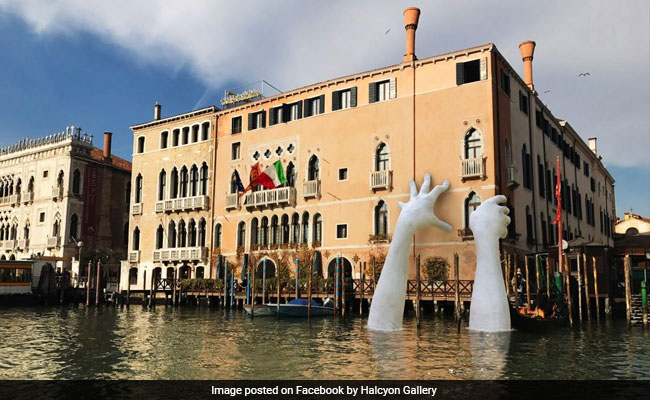 New Delhi:
Can art help tackle climate change? That's what Italian artist Lorenzo Quinn hopes. The contemporary artist and sculptor's latest work is creating a lot of buzz on social media. It is a dramatic visual statement urging people need to respond to global warming before it's too late.
'
Support
' sees two large hands emerge from Venice's Grand Canal to protect, and as the name suggests, support the historic Ca' Sagredo Hotel. According to the artist, the hands symbolise tools that can both destroy the world, but also have the capacity to save it.
A video shot of the installation artwork has been viewed over 1.7 million times since being uploaded on Facebook by the artist on Friday. It has been shared over 25,000 times and collected over 17,000 reactions.
Take a look at the video here:
"I wanted to sculpt what is considered the hardest and most technically challenging part of the human body. The hand holds so much power - the power to love, to hate, to create, to destroy," says Mr Quinn in a
statement
.
Venice, known as "The Floating City" or "City of Canals," is literally sinking under rising sea levels due to global warming.
"Venice is a floating art city that has inspired cultures for centuries, but to continue to do so it needs the support of our generation and future ones, because it is threatened by climate change and time decay," the artist says.
Venice has been designated a World Heritage Site by UNESCO. The hands symbolise the role people must play in supporting the historical city survive, explains the artist.
The sculpture, officially unveiled on May 13, will remain on display till November 26, 2017 while the 2017 Venice Art Biennale is on.​Click for more
trending news