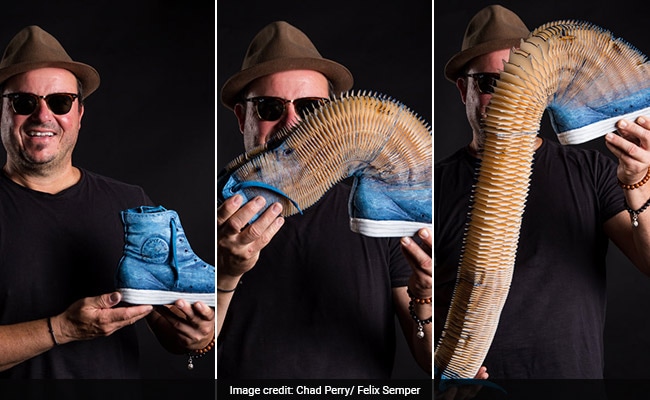 New Delhi:
When you first look at
Felix Semper
's intricate works of art, they look like they might be made of stone or wood. Some of his sculptures look so real, you may even be tempted to bite into a slice of cake or burger or drink out of a can of Coke that the artist has created. But in reality, Mr Semper's sculptures are made from stacks of paper glued together and meticulously sculpted and painted to look like the real deal. The 53-year-old self-taught artist's work has recently been getting a lot of attention on social media. The best of his stretchable paper sculptures were even curated into a
Twitter moment
recently.
#stretchable paper sculptures pic.twitter.com/Cc8Gl7eY0N

— felix semper (@fsemper) July 18, 2017
"As long as I can remember, I have always been interested in art," Mr Semper tells NDTV. He reveals that as a child in Spain's Madrid, he often visited museums and attended adrenaline-pumping bullfights. He remembers excitedly drawing and painting what he saw when he got home.
"I moved to the States years later, had a family and became a home builder," the Cuba-born artist and sculptor adds. "I put my art on hold and forgot about it."
"When the housing crisis hit in 2008, I lost my business and lost everything I had worked for. It was a time to reflect on my true self and what I loved so I started to draw and taught myself to paint," he says.
#Biggie Felix Semper Stretchable paper sculptures #nycpic.twitter.com/5HVzUX7wR9

— felix semper (@fsemper) September 16, 2017
It was an accidental snow sculpture, Mr Semper explains, that provoked his interest in the artform. "That was the beginning of my self-discovery to find myself in art," he says.
"LAYS BAG OF POTATO CHIPS"!!!!
Can't have just 1-
Unique stretchable paper sculptures % Semper #layschipspic.twitter.com/93VMlePQo6

— felix semper (@fsemper) August 24, 2017
He began experimenting with paper sculptures as he felt if he was going to pursue a successful career in sculpture, he had to be "totally different" from everything out there.
"I started gluing sheets of paper together into a solid block and I carved it. It took me about a year to create the movable part of the sculpture," he reveals. "Trial and error is how I started to develop this medium as I taught myself."
Bling Bling Toosa!!! Stretchable paper sculpture!!!#stretchablepapersculpture#blingblingpic.twitter.com/WxvwgWSUtO

— felix semper (@fsemper) July 21, 2017
Explaining how he typically creates his stretchable art sculptures, a huge hit on social media, Mr Semper says he begins by gluing sheets of paper together - a larger bust can take up to 7,000 sheets of paper. Using sandpaper, he then carefully carves the paper block into the desired shape. The process finally ends with him painstakingly painting the paper sculpture, with incredible attention to detail.
The process can take anywhere from a few days to several months, depending on the size of the sculpture.
A real burger?... % Organic and very high in fiber!!
Made from paper. #paper#NationalWalkoutDay#worldsgreatestshave#MSDStrongpic.twitter.com/dMVfEXJeMH

— felix semper (@fsemper) March 15, 2018
Mr Semper says he's enjoying the attention that his work has been receiving on social media but adds it does not deter him from creating more and more art each day. "I live to create! It is my drug," he exclaims.Click for more
trending news