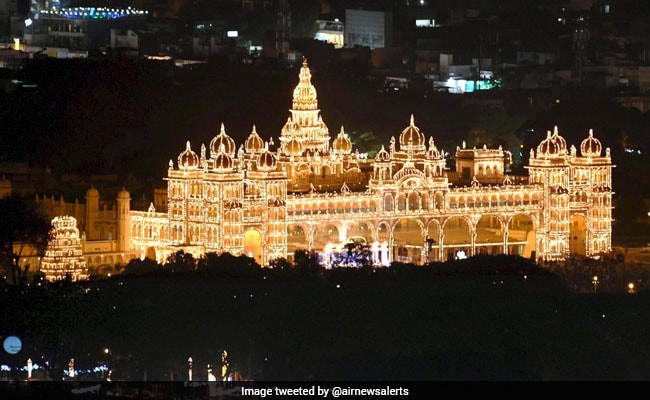 Dussehra or Dasara, as it is known in Mysore, is one of the most auspicious and widely-celebrated festivals in India. Mysuru Dasara is the official state festival of Karnataka, held every year in the city of Mysore or Mysuru. Celebrated for 10 whole days, the festival begins at Navratri and ends on Vijayadashmi. According to Mysuru Dasara's
official website
, festivities were first started in 1610 by the Wadiyar King, Raja Wadiyar I. Today, grandeur and pomp typically mark the festival of Mysuru Dasara (or, as it was called earlier, Mysore Dasara), and its highlight is the lighting up of the Mysuru Palace.
Every year, the Mysuru Palace is
lit up with 100,000 light bulbs
every night from 7 pm to 10 pm for the duration of the 10 day long festival, making for a stunning sight.
Beautiful pictures of the illuminated Mysuru Palace have now taken over social media. Check them out below:
Mysore Palace illuminated ahead of #Dussehra celebrations in Mysore on Saturday. pic.twitter.com/wW5Y2SKcIB

- All India Radio News (@airnewsalerts) September 24, 2017
All the tourist from all over #India must visit #Mysore & see lighted city. #IncredibleIndia
Pic: Mysore Palace, Mysore
[@narendramodi ] pic.twitter.com/Hxz2GJ9FZn

- Shivendra Rai (@estshivi) September 27, 2017
#MysoreDasheera@ArmaanMalik22#MysorePalace at night pic.twitter.com/8y9IAeK65y

- #SHAdiya (@ArmaanShadi_AM) September 27, 2017
Saw the lights go up making Mysore Palace look stunning tonight.
It is the first day of Mysuru Dasera.#IncredibleIndia#SSTForIndiapic.twitter.com/iWFqrx4DyC

- Pendown (@manjulika5) September 21, 2017
An unverified Twitter handle of the Mysuru Dasara 2017 has also shared pictures of various events being held in front of the palace during the festival.
Dasara Cultural Progammes at #Mysuru Palace #MysuruDasara#Shobanapic.twitter.com/Tviw00Pdm1

- Mysuru Dasara 2017 (@MysuruDasara) September 22, 2017
Here are a few glimpses from the #PoliceBand performing in front of the #MysorePalace as part of the #Dasara festivities.
-#MysuruDasara2017pic.twitter.com/otmlKTEW9h

- Mysuru Dasara 2017 (@MysuruDasara) September 26, 2017
Take a sneak peek into some of the colourful #CulturalProgrammes that happened @ #MysuruPalace yesterday.
-#MysuruDasara#Dasara2017#Mysurupic.twitter.com/cfnN7X2W2a

- Mysuru Dasara 2017 (@MysuruDasara) September 24, 2017
The Mysuru Dasara attracts visitors from all over the world. It traces its origins back to mythical history, when Goddess Chamundeshwari of Chamundi Hill killed the demon, Mahishasura. The festival thus celebrates the victory of good over evil.
Major attractions of the Mysuru Dasara today include colourful tableaux, dance groups and music bands. On Vijayadashami, the traditional Dasara procession (or Jamboo Savari) is held on the streets of the city, the star of which is
Arjuna
the elephant.Click for more
trending news