New Delhi:
Days of sleeping fitfully in uncomfortable aircraft seats could soon be a thing of the past. Qatar Airways has unveiled the industry's first ever double beds within business class, and they're definitely impressive. The double beds come as part of Qatar Airways' latest style of business class travel, named QSuites. QSuites will allow passengers to recline the two seats into a fully lie-flat bed, complete with 'pillows, a quilted mattress and a soft, plush duvet.' These suites will also feature partition panels for you to create a private bedroom on an aircraft.
Qatar Airways has said that these innovations help their customers enjoy a 'first class experience in business class.'
"Our unique and patented design is a world first in many ways and challenges industry norms by offering passengers more privacy, more choice and more personalization," said Qatar Airways chief executive Akbar Al Baker in a
press release
published by the airline.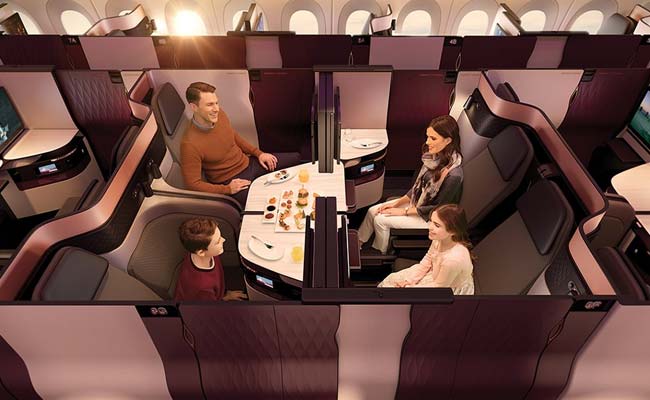 Double beds are not the only thing that QSuites offer. The new seating arrangement with movable TV screens and adjustable panels also allow people travelling together to sit facing each other. The airline has partnered with two Italian luxury brands - BRIC's and Castello Monte Vibiano - to create luxurious amenity kits filled with handpicked products for its customers. For entertainment, they can choose from over 3,000 options of movies, TV shows and games.
With such luxuries at hand, we're assuming that most passengers will make full use of the 'Do Not Disturb' indicators on their suite doors.
According to
The Strait Times
, QSuites will make its debut on flights to London, followed by Paris and New York services.
You can watch the full video below:
What do you think? Let us know using the comments section below.