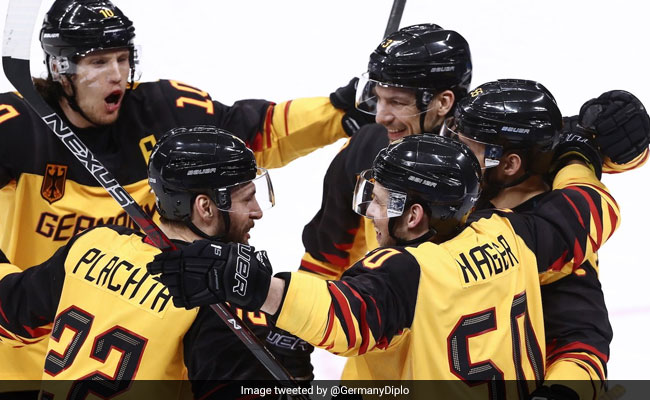 German tourists planning a trip to Canada received some tongue-in-cheek advice from their government Friday after their unheralded ice hockey team dumped mighty Canada out of the Winter Olympics. Germany completed a shock run to their first men's Olympic hockey final by dethroning the two-time defending champions Canada 4-3 in Pyeongchang to book a gold medal showdown against Olympic Athletes from Russia. The win led to the German Foreign Office asking citizens to not gloat at Canadians and display 'empathy' in their interactions.
"Travel advisory: Germans in Canada should exercise a high degree of empathy," tweeted the German Foreign Office 14 hours ago.
"Be nice, don't gloat, give hugs, buy rounds of hot chocolate. Just imagine how you would feel if Canada beat us in soccer!"
Travel advisory: Germans in Canada should exercise a high degree of empathy. Be nice, don't gloat, give hugs, buy rounds of hot chocolate.

Just imagine how you would feel if Canada beat us in soccer



#CANGER@TeamD@CanadaFP@GermanyInCanada@KanadaBotschaftpic.twitter.com/0HlHoxMA7E- GermanForeignOffice (@GermanyDiplo) February 23, 2018
Canada had a cheeky response ready
Thanks @GermanyDiplo. Congrats on your first shot at gold! We remember our first gold medal match in #IceHockey like it was yesterday... 1920 to be exact. #PyeongChang2018pic.twitter.com/3rKIonBGDN

- Foreign Policy CAN (@CanadaFP) February 23, 2018
The exchange left many grinning:
This is so funny. Where can I go to get my hot chocolate now? :) Congratulations for this beautiful victory #Germany

- Marc Nadeau (@marc__nadeau) February 23, 2018
That is the most gloriously passive-aggressive tweet I have ever seen.

- Paula Weston (@paulacweston) February 23, 2018
Haha amazing. As a Canadian I loved this! Will be cheering for Germany in the gold metal game! visited Germany 2 years ago and loved it!

- Leah H (@hubs_h) February 23, 2018
(With Inputs From AFP)
Click for more
trending news