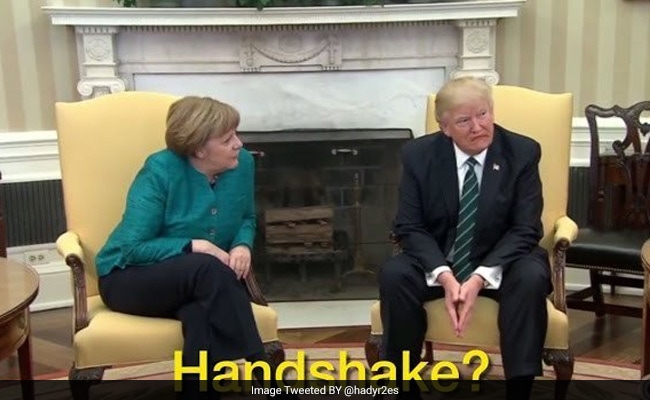 New Delhi:
Yesterday, during a photo opportunity at the White House, US President Donald Trump refused to shake German Chancellor Angela Merkel's hand. After a joint news conference where he publicly disagreed with her on major issues, Mr Trump snubbed a handshake request from Ms Merkel - and sent Twitter into a meltdown. A short clip of the awkward moment quickly made it to the Internet, where Tweeple were quick to jump to conclusions, draw comparisons and outright condemn Mr Trump for his 'childish' behaviour.
Watch the video below:
Donald J. Trump appears to ignore requests for a handshake with Angela #Merkel during their first meeting.
Credit: @businessinsiderpic.twitter.com/Q4QZqpabJN

- The Kelves (@the_kelves) March 17, 2017
Surprising, isn't it?
As photographers asked the two to shake hands, Mr Trump, avoiding eye contact, appeared to snub this request. While it is possible that Mr Trump simply did not hear Ms Merkel over the din, people were unwilling to accept this theory. Some pointed out that his body language indicated that he was uncomfortable. Well, you can check out some of the funniest reactions to that moment below:
1. People drew comparisons
Interessant #Handshake?



[#Berlin#Merkel#Trump#CDU#SPD#Schulz#Deutschland#POTUS]
pic.twitter.com/lnijI19vta- Efe (@1almanyali) March 18, 2017
2. And more comparisons...
'@realDonaldTrump Handshake the easy way: pic.twitter.com/ycbwLXrqLn@realDonaldTrump#Merkel#Trump@RepublicanStudy@WhiteHouse

- Doris Voss (@tijdvooreten) March 17, 2017
3. And some more comparisons...
One of these things is not like the others. One of these things just doesn't belong. #handshake#Merkel#Trump#MerkelTrumppic.twitter.com/p3G59blOsr

- Marisa Hebble (@marisa_108) March 17, 2017
4. Mr Trump's tiny hands are a running gag now
Trump was worried a strong German woman like Angela Merkel might crush his tiny hands. #handshake

- Alt Fed Employee (@Alt_FedEmployee) March 17, 2017
5. A few people speculated about why this refusal happened at all
Trump: "Nobody has greater respect for women than me."



Merkel: "Would you like a handshake?"

Trump: *crickets* pic.twitter.com/AoajuE2Yy2- Joel Fieber (@omg_yay) March 18, 2017
6. Some already knew why
Trump is apparently intimidated by strong, dignified women. Merkel dodged a bullet with that handshake. Trump's an embarrassment.

- Marie (@Jazzdragon) March 17, 2017
7. Another running gag was brought up
Trump didn't want to shake hands with Merkel? Oh, I get it. Reporters asked for handshake, those fake news, OMG, Trump stand your ground!

- Imre B (@imreb321) March 18, 2017
8. All in all, people were not happy
Anyone notice the body language?#merkeltrump#Merkel#AngelaMerkel#NoShake#Handshake#Trump#wiretap#GermanChancellorpic.twitter.com/DS7WpwnSgr

- Bacontimbit (@bacontimbit) March 18, 2017
What do you think of this handshake incident? Let us know using the comments section below.