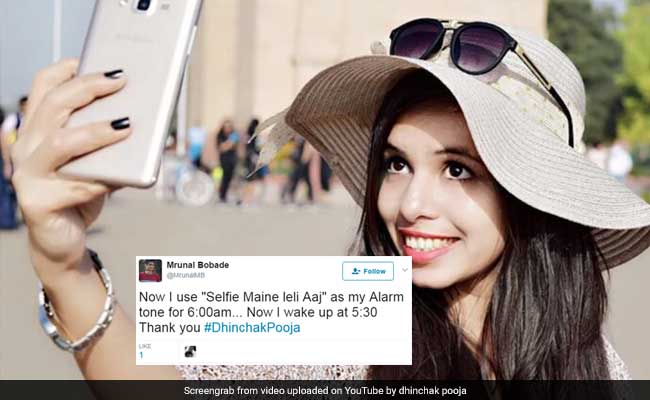 NEW DELHI:
Forget
Bajrangi Bhaijaan
's
Selfie Le Le Re
- there's an all new anthem for the selfie-obsessed and it's taking the Internet by storm. If you spend enough time online, chances are you've already heard it. For those who haven't, grab your earphones and listen to
Selfie Maine Leli Aaj
sung by Dhinchak Pooja (we're not making this up, that is what the song's singer is called) right now. The track is currently trending on YouTube with over nine lakh views since being shared on May 14. The song is going so insanely viral, people on Twitter cannot stop talking about it.
The video - a little over two minutes long but feels longer - shows the singer driving around town in a fancy car singing about the selfies she's clicked all day. Umm... that's pretty much all the song is about. Hear the song below and decide for yourself.
Since the song made it online, people on Twitter haven't been able to stop tweeting about it.
If you didn't listen to dhinchak Pooja's new "Selfie Maine leli aaj" song, are you even a music lover? pic.twitter.com/mngLPL90mL

- ShinChan (@Anurodh_80) May 15, 2017
After you return back alive after listening to Dhinchak Pooja's "Selfie Maine leli aaj" pic.twitter.com/XUkbDAV1jK

- BAWAL (@BawalHuMe) May 17, 2017
Before and after listening to Dhinchak Pooja's "Selfie maine leli aaj": pic.twitter.com/TLDjaVLtEv

- Swikriti (@swik__) May 17, 2017
Now I use "Selfie Maine leli Aaj" as my Alarm tone for 6:00am... Now I wake up at 5:30 Thank you #DhinchakPooja

- Mrunal Bobade (@MrunalMB) May 18, 2017
Congratulations... #UNESCO Declared #DhinchakPooja's "Selfie Maine Leli Aaj" As The Best Selfie Song Anthem Of The Decade !

- Aalim Ameen (@aalimameen) May 18, 2017
Selfie maine leli Aaj !
My ear started bleeding.

- Avinash Mourya (@AvikMourya) May 18, 2017
The reason I've stopped taking slefies:
Me clicking a selfie
*background*
'selfie maine leli aaj '#Dhinchakpooja

- Devanshi Shah (@GujjuGodAss) May 18, 2017
I've found that people tend to leave you alone after they've seen you listen songs like Selfie Maine Leli Aaj by -
#Dhinchakpooja

- RAB (@Sourabhsharma68) May 18, 2017
Today i took revenge from my ex. By sending dhinchak pooja's "selfie meine leli aaj*..

- Muskan Pathan (@MuskanPathan5) May 18, 2017
After reading all about dhinchak Pooja, today I watched her video " selfi mene leli" I've Never laughed like this. Truly dinchak she is.

- maya (@mainmayaa) May 18, 2017
This isn't Dhinchak Pooja's first rodeo. She also has two more songs
Swag Wali Topi
and
Daaru
. You can watch them
here
.
Tell us what you think of the song in the comments section below.Click for more
trending news