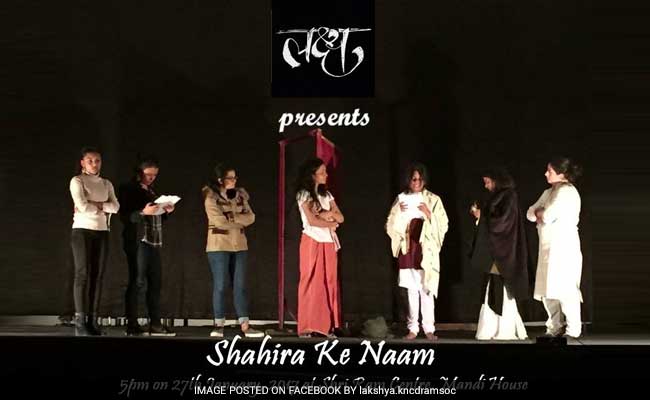 Highlights
The team from Kamala Nehru College alleges they were disqualified
The theatre group was participating in a theatre festival on January 27
A post about the incident is causing something of a stir online
A post detailing the disqualification of a Delhi college from a theatre festival has caused something of a stir online. The post, shared on Facebook by Monami Basu, the convener of Lakshya, the theatre society of Kamala Nehru College alleges the team was disqualified for using 'inappropriate language'. "No not cuss words but because one scene in the play had dialogues with the words 'BRA' and 'PANTY'," says Ms Basu on Facebook. Since being shared on January 28, her post has collected over 480 reactions and some 116 shares on Facebook.
The theatre group was participating in the Mahavidhylaya Theatre Festival organised by Sahitya Kala Academy on January 27. According to Ms Basu's post, the team had staged the play 'Shahira Ke Naam', which is about six women. It was after the performance that the team found out they had been disqualified.
"So traumatized were the organizers by the words ('bra' and 'panty') that they choked on them and could not bring themselves to spell out those 'appalling', 'disgusting' words while telling us the reason for disqualification," Ms Basu says on Facebook.
"We reject this kind of perversion which prevents youth from healthy discussions on sex, desire and yes even BRA PANTY which are pieces of clothing, if it titillates you, it is your problem," she went to say in her post.
Organisers of the competition, however, say the team wasn't disqualified. "The society has not been disqualified, they will only lose marks because they've broken the rules about obscenity. Not just words like bra and panty, they've used several other cuss words, too," Neha Sharma, the coordinator of the event told
Hindustan Times
. Other colleges who used cuss words in their plays would also lose marks, she added.
Here's what the theatre society has to say on the matter:
Read Ms Basu's post in its entirety below:
"The typical hypocrisy of our society ... some know-all's decide the norms and what is permitted and what is not, and the rest keep quiet even if they don't agree, to maintain peace and quiet," says one commenter on Ms Basu's post. "What a shame," says several others.
What do you think about this incident? Tell us in the comments section below.