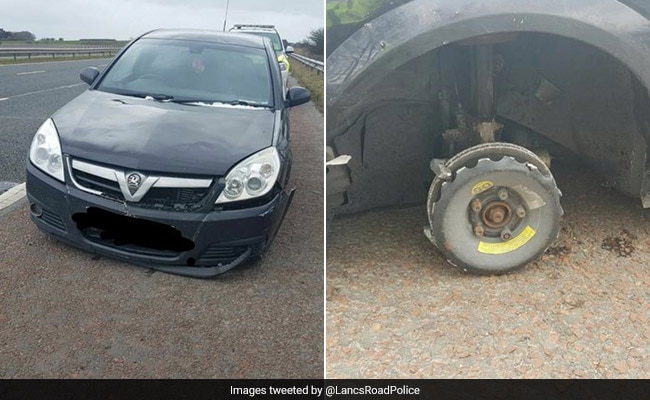 Police in Lancashire, England, pulled over a car for driving with a front tyre missing. The incident took place on March 18 when the patrol police stopped a car on the M55 highway between north Preston and Blackpool, reports
UPI
. Officers saw the car with the left corner dragging down the road as it cruised past them, with only a shattered wheel bolted to the hub. They had also received multiple complaints about the car from other drivers.
"The driver was unaware what the problem was," wrote the Lancashire Road Police in their Twitter post, while sharing two pictures of the vehicle. The driver is now due in court for 'numerous offences'.
This vehicle was stopped by our TacOps colleagues #HU24 on the M55 after a report from concerned members of the public. The driver was unaware what the problem was They are now aware a day in court is coming for numerous offences #T3TacOps@NWmwaypolicepic.twitter.com/ySpvr1Spzz

- Lancs Road Police (@LancsRoadPolice) March 18, 2018
According to
AOL
, the driver had clearly experienced tyre problems earlier as well, 'as what was left of the wheel showed it to be a temporary space-saver'. Space-saver wheels are intended for short term use only and are not recommended for speeds over 50 mph.
"We had passed the car earlier down the road ... we decided to film it for evidence as he came past us," said Tom Davis, who recorded footage of the car, according to
Yahoo News
.
Click for more
trending news