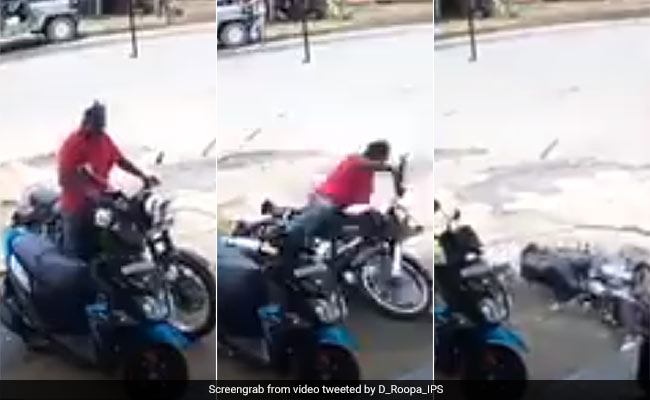 "Park your vehicles in a safe place," comes a warning from
D Roopa
, a senior Karnataka police officer, on Twitter. On Friday, Ms Roopa took to the microblogging site to share surveillance footage showing what happened to a man who tried to park his motorcycle in an unsafe spot outside a
kirana
shop. The footage is from a CCTV camera placed inside the store and pointing towards the entrance.
The video, less than 30 seconds long, begins with a man pulling up outside the store. He is seen parking his motorcycle on an elevated platform right outside the store. Within seconds, the man appears to lose his balance, topples over and briefly disappears from sight.
The shopkeeper immediately leaps to the biker's aide. As passers by rush to help, for a terrifying few seconds, neither the biker nor the motorcycle are visible in the frame.
Watch what happens next in the video below:
Park your vehicles in a safe place--- pic.twitter.com/mbi1m9JF5k

— D Roopa IPS (@D_Roopa_IPS) October 27, 2017
Fortunately, the biker appears largely unhurt.
Though it is not disclosed exactly where the incident took place, as seen on the timestamp of the video, it occurred on the afternoon of September 20.
Since being shared on Twitter on Friday, the video has been 'liked' over 900 times and retweeted over 460 times. Twitterati are full of praise for passersby who immediately rush to help the biker up.
"It's really shocking. But one thing to appreciate is people around tried to help him soon instead of just recording with their mobiles," comments one person on the video.
"Love the way the general public tended to him to help," comments another.
What do you think of the shocking video? Let us know in the comments section below.Click for more
trending news