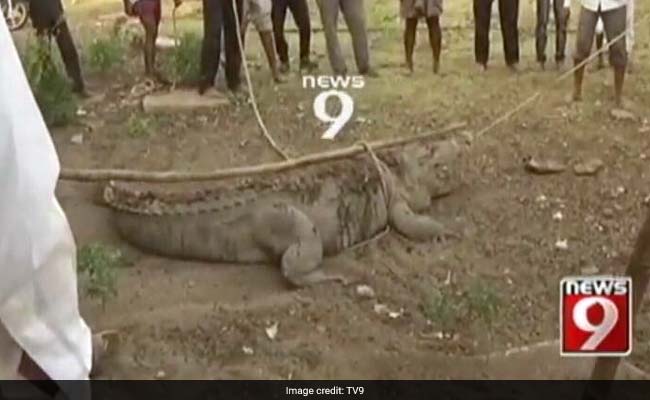 Bengaluru:
Bagalkot in Northern Karnataka may have suffered through two years of consecutive drought - but it is certainly facing a deluge of crocodiles. With the fall in the level of the river Krishna, more crocodiles seem to be heading out of the water and into the region of human habitation.
In one village, priests coming to the temple were in for a surprise when they saw a 12-foot-long crocodile in the sanctum sanctity. They kept a safe distance from the reptile and called in other villagers for support. With ropes, the men gingerly lassoed the teeth of the crocodile. And pulled it out of the temple carefully - very carefully.
Once out of the temple, the crocodile was held down with sticks and further tied with ropes. The rescuers, did of course, have to take care of their own limbs.
Once immobilised, the group of brave and humane rescuers, hoisted the crocodile onto their shoulders - and took it to safety. It was eventually released by authorities.
Earlier this month, another rescue effort ended in failure - the crocodile did not survive. But there was a valiant, muddy effort made to pull it out from the slush in which it died.Click for more
trending news