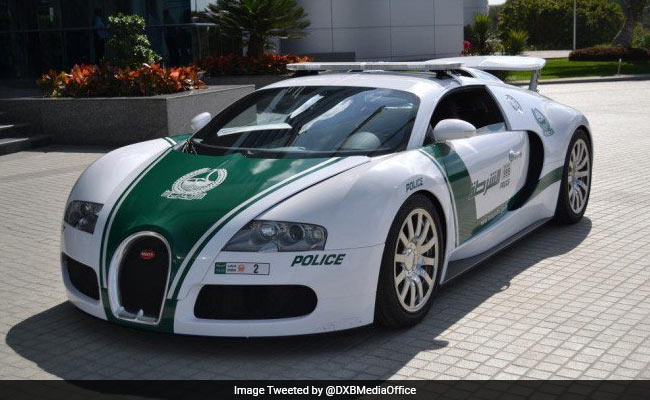 New Delhi:
Dubai is now officially home to the fastest police car in the world. That's right. The Bugatti Veyron, a luxury supercar which is part of the Dubai police's fleet of patrol cars, has been officially certified by the
Guinness Book of World Records
as the "fastest police car in service." The sports car, which costs approximately 10.5 crore rupees, has a top speed of 407 kilometres per hour. Its 16-cylinder engine produces 1,000 horsepower and the car can go from 0 to 97 kilometres per hour in just 2.5 seconds. Oh, and it is only one of 14 supercars that are part of the Dubai police's "super fleet."
Dubai police bought the Bugatti Veyron in April 2016. The Guinness World Records website notes that the Veyron is the second fastest street-legal car in the world, only after the Hennessey Venom GT, which has a top speed of 427 kilometres per hour.
Take a closer look at the Bugatti Veyron:
Dubai police
added the Bugatti Veyron to its fleet primarily to increase the visibility of its police force in touristy areas. So rather than high-speed chases, the supercars are more likely to attract attention from tourists and locals alike at hotspots like the Burj Khalifa Tower and the Sheikh Mohammed bin Rashid Boulevard.
The cars allow the city's police force to be more accessible, Dubai police Lt. Saif Sultan Rashed Al Shamsi tells
Gulf News
. "One of the funny stories we have is that a lot of tourists and people here call the Dubai police...on (the emergency number) 999 to ask about these cars. They want to know which location they will be in and how they can find them and take pictures with them."
International Business Times :pic.twitter.com/NrdnwCPvUW

— Dubai Media Office (@DXBMediaOffice) March 23, 2017
Dubai police's
fleet of patrol cars
includes: McLaren MP4-12C, Lamborghini Aventador, Ferrari FF, Mercedes SLS AMG, Roush Mustang, Bentley Continental GT, Audi R8 V01 Plus, Nissan GTR and Mercedes SL36 AMG. A limited edition Aston Martin One-77 - one of only 77 ever built, a hybrid Porsche Panamera, BMW M6 Gran Coupe and Mercedes G36 AMG, modified by Brabus are also part of its fleet.
Take a closer look at the Dubai police's entire fleet of supercars:
They say everything's bigger, brighter and faster in Dubai and this proves it.
Click
here for more trending stories
.