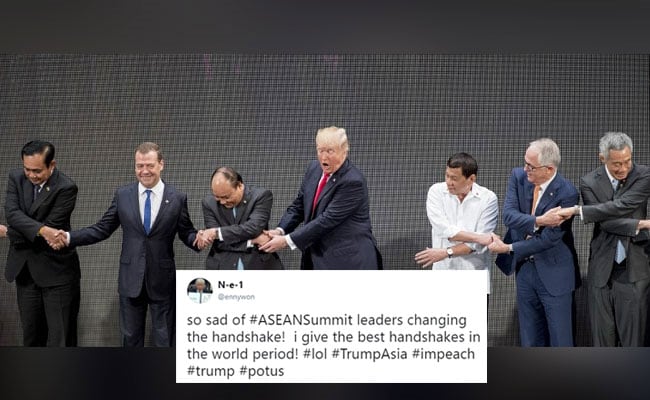 It's a known fact that US President Donald Trump isn't an expert when it comes to
handshakes
. Ever since Donald Trump took over as POTUS in January, his
handshakes
have been under much scrutiny. Several world leaders like Japanese Prime Minister Shinzo Abe have been subjected to Mr Trump's 'yank and pull' style handshake making for rather uncomfortable pictures. But his latest, a group handshake at the Association of Southeast Asian Nations (ASEAN) summit in Manila, Philippines is being labelled his most awkward yet.
In a departure from his usual aggressive handshake, Donald Trump had some trouble figuring out which hand to grasp in a choreographed cross-body linked handshake of respective state heads at the
ASEAN summit on Monday
. While leaders crossed their arms to join hands with leaders next to them, Donald Trump awkwardly grabbed the hand of Vietnamese President Tran Dai Quang with both hands. With the US President briefly breaking the symbolic handshake, supposed to denote unity, Philippine President Rodrigo Duterte stood around awkwardly with a spare hand.
Mr Trump eventually figured out his mistake but not before the unflattering images made it to Twitter.
good luck to whoever has three weeks to get this regional production of Mamma Mia! into shape pic.twitter.com/eCZ81VxbMi

— Dave Itzkoff (@ditzkoff) November 13, 2017
Donald Trump hasn't quite got the hang of the ASEAN handshake with Rodrigo Duterte in Manila today. pic.twitter.com/Z6YlmU0G0O

— Audrey Young (@audreyNZH) November 13, 2017
Trump, # 1 pos. 4 record of most aggressive handshake takes on unheard of amount of double shakes! And he s, wait...uh...nope...grimace fail https://t.co/7QR1kHFJci

— marie (@mdparentisme) November 13, 2017
Trump tried this special handshake in ASEAN summit and he looks like he's heavily constipated https://t.co/HVBpBnmjKL via @mashable

— CreativeWolf (@CreativeWolf) November 13, 2017
Guess he never played twister?
In Asia, Trump briefly baffled by group handshake https://t.co/0fxcVBtwLd

— Teresa (@teresa4IDEAS) November 13, 2017
so sad of #ASEANSummit leaders changing the handshake! i give the best handshakes in the world period! #lol#TrumpAsia#impeach#trump#potuspic.twitter.com/8i3bvNuAsF

— N-e-1 (@ennywon) November 13, 2017
Donald Trump is in the Philippines for the last leg of his Asia tour which included stops in Japan, South Korea, China and Vietnam.
The US President's signature handshake style makes headlines during every high profile meeting. While Mr Trump tries his best to 'yank and pull', some bravehearts have defied Mr Trump's 'pull' and found a way around it, like Canadian Prime Minister Justin Trudeau who placed a hand on Mr Trump's shoulder to avoid getting pulled towards him.Click for more
trending news