Sydney:
West Indies cricketer Chris Gayle has earned a A$10,000 fine for "inappropriate conduct" after he asked an Australian reporter for a
date on live TV
, adding "don't blush baby".
The incident has made headlines around the world, including one that reads "In Defence of Chris Gayle," a blog post by Huffington Post's Blog Editor in Sydney, Chris Harrison.
In defence of the cricketer, Mr Harrison has - well,
nothing to say.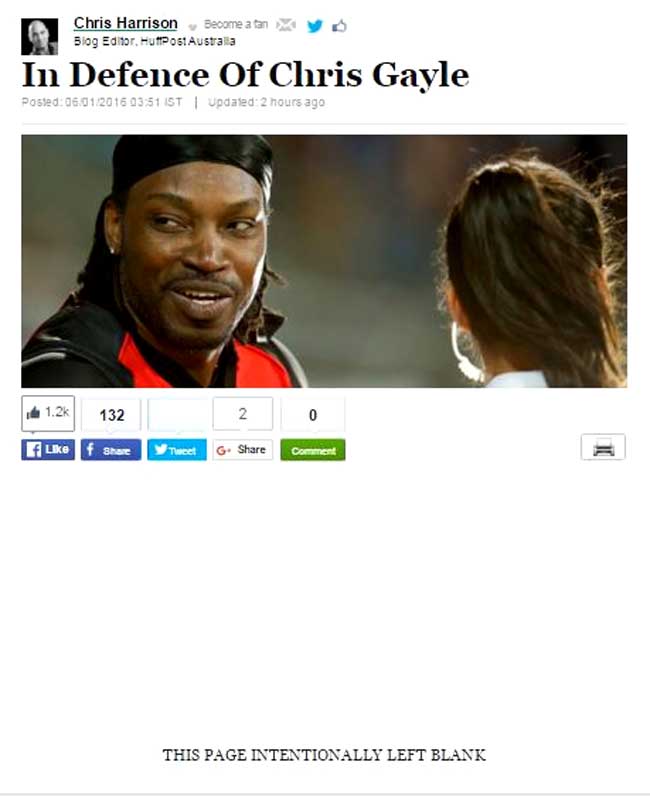 "To see your eyes for the first time is nice. Hopefully we can have a drink afterwards. Don't blush baby," Chris Gayle had said to Ten Network reporter Mel McLaughlin after he batted for the Melbourne Renegades in a Big Bash League (BBL) T20 match in Hobart on Monday.
Mr Gayle apologised on Tuesday and said, "There wasn't anything meant to be disrespectful or offensive to Mel. If she felt that way, I'm really sorry for that."
He also said it was a "joke blown out of proportion".
Cricket Australia and Big Bash League officials have said they do not see anything funny. "I heard Chris's comments and they're disrespectful and simply inappropriate," BBL boss Anthony Everard said in a statement late on Monday.
"There's just no place in the BBL or -- for that matter, cricket anywhere -- for that sort of behaviour," he added.
Cricket Australia chief James Sutherland said no one should have to face such comments, which were "completely out of line" and "inappropriate for the workplace".