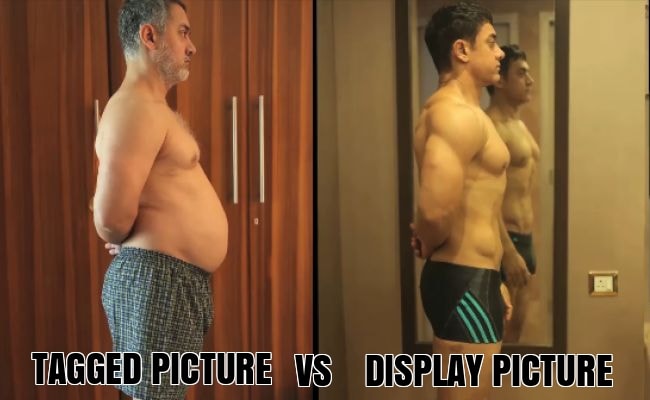 By now you've probably seen the incredible transformation Aamir Khan underwent for his upcoming sports drama
Dangal
. The 51-year-old actor, who plays the younger and older versions of wrestler Mahavir Singh Phogat, first put on and then dropped nearly 25 kgs for the film. And this fat to fit journey, captured in a behind-the-scenes video, was released earlier this week.
While most of social media marveled at Aamir's dedication and commitment to the role, others managed to find humour even in this situation. Twitter, after gushing over the actor's amazing weight loss, used his before and after pictures for some pretty hilarious memes.
From jokes on the currency ban to marriage, here are some of funniest 'this vs that' tweets depicting regular but amusing daily situations using Aamir's pictures.
Your wallet. Before Demonetisation.
Your wallet. After Demonetisation. pic.twitter.com/g3eUDvbN9L

- Sorabh Pant (@hankypanty) November 29, 2016
Government Job v/s Corporate Job. pic.twitter.com/ErPsKgBRiX

- Kaabira. (@KaabiraSpeaking) November 29, 2016
#AamirKhanFatToFit#AamirKhan#Dangal#desi#memes#indiapic.twitter.com/XznzhcWYfo

- Desi MEMES (@imDesimemes) November 29, 2016
Tagged photo on Facebook vs Tinder Dp pic.twitter.com/Cg7uBZVX5x

- Sand-d Singh (@Sand_In_Deed) November 29, 2016
When you have a wife vs When you have a girlfriend pic.twitter.com/c9NbElY4YU

- Atul Khatri (@one_by_two) November 29, 2016
Pic 1: me asking a girl out "hey! How you doing "



Pic 2: me after hearing "I have a boyfriend "

#Funnies#AamirKhanFatToFitpic.twitter.com/VO4BGrYxZJ- Banarasi Cockroach!! (@BanarasiBabu86) November 29, 2016
And that's that. #AamirKhanFatToFit#AAMIRKHANpic.twitter.com/PyiZkOMGxX

- Kabir Chandra (@ChandraJr) November 29, 2016
New Year's resolution vs New Year's reality. pic.twitter.com/juAhLFc1En

- Gabru Tippler (@MrTippler) November 29, 2016
1.Joining Indian police force
2. Retiring from Indian police force #AamirKhanFatToFitpic.twitter.com/LHet6imufM

- Piyush Sharma (@chaipilado) November 29, 2016
While the world is busy praising #AamirKhan and his #Dangal look,
We bring out some common man's problems!#AamirKhanFatToFitpic.twitter.com/6GvNV1B0LZ

- 9XM (@9xmHaqSe) November 29, 2016
Dangal
, based on the Phogats of Haryana who gave India some its most celebrated female wrestlers, releases on December 23.