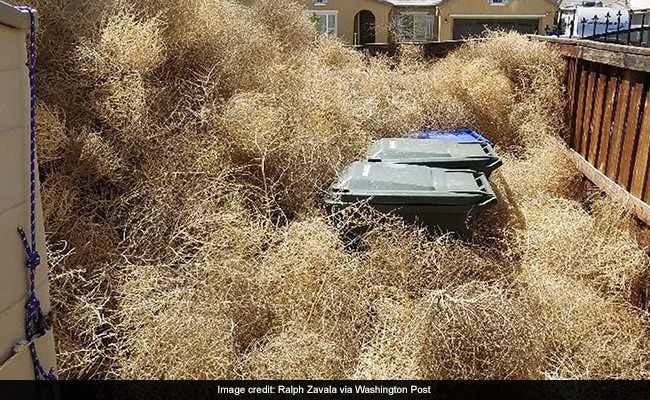 Homeowners in southern California and Utah prepared for battle Monday, arming themselves with gloves and, in some cases, pitchforks or metal rakes.
Their enemy? Thousands of tumbleweeds.
Gusting winds sent the prickly attackers rolling into a Victorville, California, neighborhood, where they quickly piled up outside homes and filled back yards. The National Weather Service had issued a high wind warning for the region, predicting 30 to 40 mph winds with gusts of up to 65 mph, Victor Valley News reported.
Although tumbleweeds are common in the high desert community, located about an hour from Los Angeles, residents say this is one of the worst invasions they have seen yet.
Bryan Bagwell, who has lived in the area since 2011, told The Washington Post the wind storm was "extraordinary."
"It seems like every time we get the tumbleweeds cleared up, the wind blows and blows them right back again," the real estate broker said. "It's a nasty nightmare."
Monday's onslaught created a horror movie scene, forcing many residents, such as Ralph Zavala, to seek shelter indoors.
"It was like dodging balls," the 45-year-old said. "You go outside and you just see them flying over your head."
The bigger nightmare, however, happened once the winds died down and people found themselves either trapped in their homes or facing hours of clean up.
While city employees were dispatched to help and cleared away unwelcome bushes by the truckload, residents still had to deal with removing tumbleweeds from their property, ABC 7 reported.
"It was terrible," Zavala said. "It's just a mess."
Tumbleweeds - which, for many, only exist in movies or shows about the Wild West - have a history of invasion. Known as the Russian thistle, the invasive weed is thought to have been introduced to the U.S. in the 1870s through contaminated flax seeds brought by Russian immigrants to South Dakota. Once the plant matures, it breaks off at ground level and spreads seeds by tumbling with the wind.
While the bouncy, hay-like balls may look harmless, they are usually full of thorny spines that can scratch or otherwise irritate skin. Large collections of the dry bundles are also potential fire hazards. To move them people need gloves or other tools, such as pitchforks, Zavala said, adding that many of his neighbors suddenly looked like farmers.
The invasion was not limited to Victorville as some residents in West Jordan, Utah, also found their properties blanketed in tumbleweeds after high winds Monday, KSL-TV reported.
Photos of scenes from Victorville and West Jordan soon flooded social media, surprising those who have never seen a single tumbleweed let alone an entire house covered in them.
"No lie," one user tweeted. "I forgot tumbleweed was a real thing and not just in cartoons and westerns."
Others joked about the situation, asking if California has "tumbleweed insurance" or calling for the creation of a 20-foot "tumbleweed snowman."
However, residents in Victorville have no time to build any tumbleweed creatures as they are busy prepping for another bout of high winds predicted to sweep through the area later this week, Zavala said.
"It is what it is," he said. "The next day comes and from there we go on, through the same routine again."
(Except for the headline, this story has not been edited by NDTV staff and is published from a syndicated feed.)
Click for more
trending news