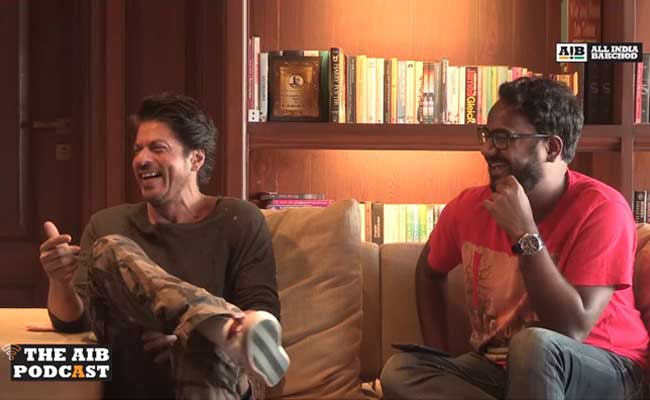 Not that anyone needs more proof but superstar Shah Rukh Khan has demonstrated once again just how witty he is. The actor was recently interviewed by comedy collective AIB for their podcast series and to say it was hilarious would be an understatement. The 30-minute-long video packs quite a punch, thanks in no small part to SRK's trademark humour. And only Part 1 of the entire interview has been revealed so far. The
Raees
actor began the interview by saying he would be as politically correct as possible. Despite that disclaimer, he answered all of AIB's questions with much elan - speaking about being in the news all the time, dancing at weddings, his first foreign tour, his first few flights abroad and much more. The video, shared some 20 hours before writing this, is currently trending on YouTube with almost six lakh views.
Here are some of the best moments from the hysterical video:
1. When he hilariously 'roasted' AIB about their supposed FIFA date that never happened
"You really thought I'm going to call you next day for FIFA," Shah Rukh asked laughing uncontrollably. Burn!
2. When he fumbled before a question and wasn't afraid to laugh at himself
"Suddenly I've become k-k-k-k-k-kk-k-kiran, only," he said.
3. When an order by 'honorable' President Donald Trump caused him to wake up worried. You know, because he's always in the news
"I wake up and say '
kaunsa
king'?
Kaunsa
Bollywood?" said. He also apparently reached for his phone and prayed - in every language - "please I have nothing to do with what's happened in America. I hope not."
4. When he tried to be very politically correct about the attack on director-producer Sanjay Leela Bhansali on the sets of
Padmavati
"Day before yesterday, some of the filmmakers - and rightly so or wrongly, I don't know, it was their point of view - got little angry with some disturbance that had happened not somewhere in India related to something," he said. Multiple choice answer, as rightly put by Rohan Joshi.
5. When he explained the importance of a selfie
"I have decided anyone says anything about me - wrong, right, good, bad ugly - I will just go to their house. Because at the end of it all it's all about a selfie" he said. "One day I've decided I'll take seven days off and take selfies with everyone who has a mouth to speak or fingers to write. I'll be the most powerful man in this country," he added.
6. When he casually mentioned his house was too small
"I will make a padded room. This house is too small, so I'm trying to earn more money, get that one room," he said. SRK will use this room to scream out loud: "
haan maine kiya, haan maine yeh bhi bola tha, aur main yeh bhi bol raha hoon, haan main
Shah Rukh
hoon
."
7. On why Bollywood stars don't speak up like Meryl Streep did at a recent award show
"
Iss baar na
Filmfare award
nahi mila. Milta toh yeh hi
speech
deta
," said Shah Rukh
8. When he compared the AIB Roast to Fan
"Good performance, completely tanked," said SRK.
9. On 'stealing the spotlight away' from the bride and groom when performing at weddings
"They should be happy I'm not stealing the bride away," said King Khan
10. When he analyzed his stardom based on his seat on a flight during his first few trips abroad
"I went (into first class) and there was a different world. There were broader seats, there were televisions on. It was like a spacecraft. So I'm looking at my promoter
ki main... main yahan
peanut
kha raha hoon, woh wahan
roast
kha rahe hain.
Why this difference?" wondered SRK.
The actor also shared a hilarious anecdote about some jokes not going quite right at weddings and another one about doing a particular biscuit ad shoot.
You'll just have to watch the video for these:
Here's hoping Part 2 is even better.