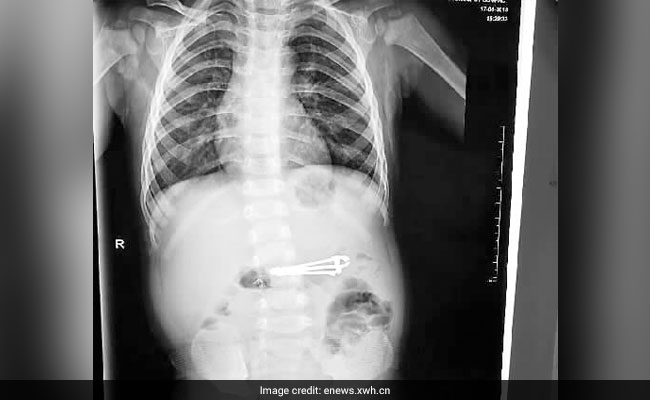 A toddler was rushed to a hospital after he grabbed a nail clipper and swallowed it. The incident took place on April 17 at Changchun in north-east China.
According to
New Culture Post
, the mother said that her 16-month-old boy grabbed a nail clipper she was using and started running around the house. When she tried to chase her son, nicknamed Feifei, he thought she was playing.
During the chase, Feifei put the nail clipper in his mouth and swallowed it. He was immediately rushed to the hospital.
At the Changchun Children's Hospital, doctors found a 2.4 inches long nail clipper in the boy's stomach and successfully removed the object with an endoscope.
Feifei was put under general anaesthetic for the 25-minute procedure.
A clip by
Pear Video
shows the whole process.
In the end, the 16-month-old was discharged from the hospital without any lasting harm done.
Just a few days ago, doctors in China
pulled out from a man's stomach a lighter
that he had swallowed 20 years ago.
Click for more
trending news