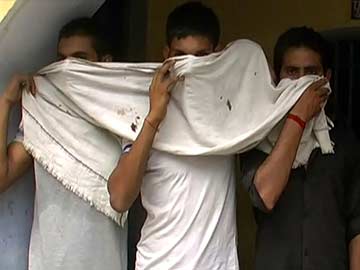 Muzaffarnagar:
In yet another shocker from Uttar Pradesh, a 23-year-old teacher was allegedly kidnapped and raped in the Balwakheri village of Muzaffarnagar district on Saturday evening.
Two friends of the accused, who were present at the spot, reportedly made a video of the act to blackmail the teacher. The incident happened when the 23-year-old was coming home after giving tuition.
"Mohit (the accused) came from behind, covered my mouth so I could not shout and dragged me to an empty house. Then he phoned his two other friends who came and filmed him raping me with their phone. They also threatened me and warned me against speaking about this to anyone," the rape survivor said.
The three accused, who are college students, were arrested late Saturday night under charges of rape and on charges under the IT act.
This incident comes close on the heels of a similar horrific incident which took place in Muzaffarnagar just two weeks ago. A 20-year-old woman was gang-raped by eight men, and the video circulated on WhatsApp. The woman alleged that the men threatened her that if she complained to the police, they would post the video online.
Statistics from the National crime records bureau paint a shocking picture. According to the bureau, there were 32,546 incidents of crime against women in Uttar Pradesh last year and 3050 rape cases were registered, one of the highest in the country. Despite this, the lawlessness continues in the state.