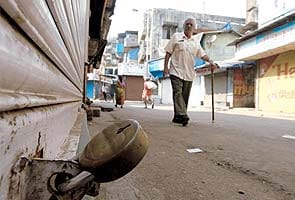 Mumbai:
With National Democratic Alliance (NDA) announcing a Bharat Bandh on May 31 in protest of the recently hiked petrol prices, key constituent Shiv Sena is already readying themselves for the 'big day'. Bal Thackeray's party claims the city will come to complete standstill on the last day of this month. Even students may have to compromise with their university exams as Sena plans to hold a meeting with varsity officials in this regard.
If the Sena stand works, transport services including railways, buses, taxis and auto rickshaws may be badly hit, and that will certainly affect office goers. "Bharat Bandh means everything will be shut. This will include all modes of transportation that is trains, taxis and autos. Only fire brigade, water services and hospitals will be working. If university examinations are to be held on May 31, we will request the varsity to reschedule them so students are not affected," said Sanjay Raut, Member of Rajya Sabha and spokesperson of Shiv Sena.
Open and shut!
BJP too maintained the bandh would be total. "Except for essential services everything else would be shut. All our allies are supporting us for the same and actively participating in the movement," said Madhav Bhandari, spokesperson, BJP. Congress, NCP and other UPA allies have criticised the opposition led bandh. "Just for the sake of misleading the people in spite of knowing the current status of the country's economy, BJP-led NDA is coming up with this populist move," said Sachin Sawant, spokesperson, Congress. "We are against the price rise, but strike is not the solution. The government should decide once on the issue of prices and not increase them every day" said Udaypratap Singh, general secretary, NCP.
'What about us?'
The student fraternity too is worried about the bandh affecting their exams. Ashish Sable (name changed), a third year student of computer engineering, said, "We have our examination on May 31. If there's Bharat Bandh then our exams may get postponed and if that happens then our industrial visits as part of the curriculum may also get affected." Roshan Sheikh (name changed) a third year IT engineering student, said, "I have my Middleware Enterprise Integration Technology paper on May 31. Our college has organised our industrial visit on June 14 and our tickets are also ready. If this exam gets rescheduled, it may affect our plans. I am also worried that transportation could be affected on that day because I travel from Santacruz till Boisar."
Wait-and-watch
Government officials and unions exhibited an ambiguous stand towards the bandh. SM Suryavanshi, in-charge, controller of examinations, University of Mumbai, said, "There are some examinations scheduled on May 31, but I cannot say now whether they will be rescheduled. The authorities and the vice-chancellor need to be consulted and only then will the university take a decision." Dr Subhas Deo, director of examinations, University of Mumbai, said, "We will check how many exams are going to take place on that day. They may not get postponed, as the number of students appearing would be very few. So we may appeal to them to come as early as possible at their exam centres."
AL Quadros, general secretary, taxi drivers' union, said, "We are not a part of this bandh. We are providing instructions to our members to keep the services on, in public interest. "We are neutral towards the bandh proceedings. We will keep our services on because we are neither in support nor against the bandh," said Sharad Rao, a union leader. "There's a lot of time before the strike happens and we haven't decided anything yet," said NA Walawalkar, Public Relations Officer, BEST.