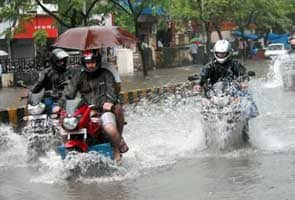 Mumbai:
Incessant heavy rain since early Monday morning in Mumbai has left several low-lying areas inundated and affected local train services and thrown normal life out of gear.
Mumbai traffic police issued an alert, asking people to avoid unnecessary travel. The BMC also deployed 110 water pumps to drain water from roads that have been waterlogged.
Heavy rainfall affected the traffic on Western and Eastern Express Highways and slow moving traffic was reported from all over the city. Heavy downpour saw western suburbs receive about 113.2 millimetres of rainfall whereas the eastern suburbs received 80.45 mms.
But the showers nonetheless brought huge relief to the city expecting severe water shortage due to less than average rainfall this year. Some parts of the city received between four to eight centimetres of rains since Monday morning, raising hopes that the water deficit would be checked this year.
Several low-lying areas in the city and suburbs were either waterlogged or flooded, delaying vehicular movement and creating massive traffic snarls on both the national highways and other major roads.
Landslide was reported at Narayan Haske chawl at Chunabhatti, one injured.
Waterlogging
Water logging is reported near Mahalaxmi temple, Goregaon, Mulund, Babulnath, Sion junction, Dadar, Kalachowkie, Mahim causeway and near Jaslok hospital. There was knee-level water in some of these areas; and the situation in Sion and Dadar was even worse. Andheri subway was closed due to the heavy rainfall.
High tide prediction for Tuesday
The Metrological department predicts high tide will be 4.03 metres at around 2.18 am and 1.02 meters at 7.39 pm.
Railways
Surburban train service on the Central line suffered heavily with delays of over one hour being reported. Trains on the Western line, meanwhile, were said to be running half an hour late. The tracks at Ghatkopar, Kurla, Matunga road, Thane Masjid Bunder, Govandi and Chembur were reportedly flooded.

Weather Forecast
The Indian Meteorological department has said that they expect heavy rains to continue battering the city for the next 24 hours.
V K Rajeev, Director, Indian Meteorological Department (IMD) said, "There is a cyclonic circulation around north east of Mumbai that has caused this downpour. There are signs of heavy rainfall in Mumbai and suburbs and also in the Konkan region for next 24 hours."
Rain in Thane district
Torrential downpour in Thane's major towns like Kalyan, Dombivli, Vasai, Virar, Palghar, Dahanu led to flooding on the roads with vehicular movements virtually crippled for hours.
As a precautionary measure, some schools in the district were closed early to enable students reach their homes safely.
The weather bureau has forecast similar heavy to very heavy rains over Mumbai and other parts of the state for the next two days.
Meanwhile, in news that will please Mumbaikars, there was considerable rise in lake levels with some close to the overflow mark.