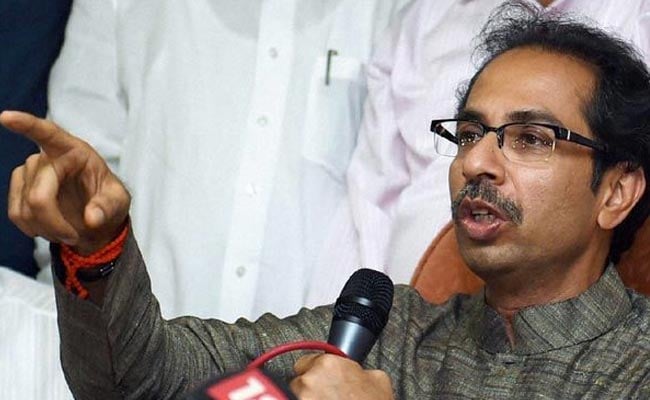 Mumbai:
In a sensational claim regarding Tuesday's downpour, Shiv Sena president Uddhav Thackeray on Wednesday said that "nine-km-high" clouds were hovering above the city and the impact would have been severe had they burst. Lapping up Mr Thackeray's remarks, which he made at a press conference, political parties across the spectrum asked the Sena chief to clarify his statement as a cloudburst could have posed a serious risk to the lives of thousands of citizens.
Referring to Tuesday's deluge that rekindled the memories of July 26, 2005, Mr Thackeray said, "nine-km-high clouds were hovering above the city yesterday (Tuesday). The impact would have been much more severe had there been a cloudburst". Responding to his remarks, BJP spokesperson Madhav Bhandari said, "Thackeray should have substantiated his comments because when talking about a cloudburst, you are talking about the safety of thousands of residents. Such stray remarks cannot be taken lightly."
Taking a dig, Congress spokesperson Sachin Sawant said it was "unfortunate" that the Sena president was "measuring" clouds at a time when he should have been measuring the width of potholes.
"When Uddhav Thackeray says there were nine-km high clouds hovering above the city, he should have given their length and breadth as well. Such remarks show the desperation and helplessness of the Thackeray family. He has no answers when everybody says this was not a natural, but a man-made disaster," Mr Sawant said.
NCP leader Dhananjay Munde sought to know why did the government not warn citizens beforehand if there was a massive risk to their lives.
"We did not hear about this cloud in the last eight days from the IMD. This shows that Uddhav Thackeray is only playing diversionary tactics from the real issue, which is the troubles of the common people and the failure of administration," the Leader of Opposition in the Legislative Council said.
"However, if what he said is true, it is a glaring loophole in the arrangements done by the government. Why were people not informed beforehand about the risk to their lives? Why was their future allowed to be dependent on fate?" Mr Munde questioned.