Highlights
Five-storey building collapses in Mumbai's Bhendi Bazaar
32 dead, over 10 feared trapped, many rescued
Inquiry will be conducted in the accident, says minister
Mumbai:
Rescue workers, including those from the National Disaster National Disaster Response Force (NDRF), searched for more than a dozen people, who are still feared trapped in a 117-year-old, five-storey building that collapsed in Mumbai on Thursday morning, two days after torrential rain lashed the city. 32 people have died and 14, including four firemen, are injured and are admitted in hospital. 10 people are still feared to be trapped inside the building.

"There was a massive bang. We couldn't see anything due to the dust and smoke. Once the dust settled, we realised it was a building collapse," said Amina Sheikh a resident of the Bhendi Bazaar area, a famous and busy marketplace in one of Mumbai's most historic districts.

Smoke rose from the ruins. Desperate relatives of those trapped pleaded with rescuers to help find their loved ones after getting phone calls from trapped survivors. About 200 rescuers in hard hats hammered at concrete slabs with hammers to reach underneath, sorting through the debris.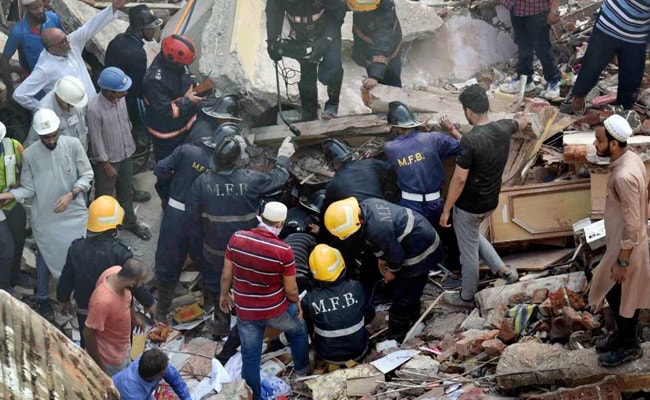 Rescuers said the area's narrow roads were making it difficult to bring in excavators.

The police had yet to determine what caused the collapse. Municipal officials said they received a call at 8:40 in the morning that the dilapidated Arsiwala building on Maulana Shaukat Ali Road had crashed. Nine families lived in crammed rooms in the higher floors of the building, which also housed six warehouses on the ground floor, officials said.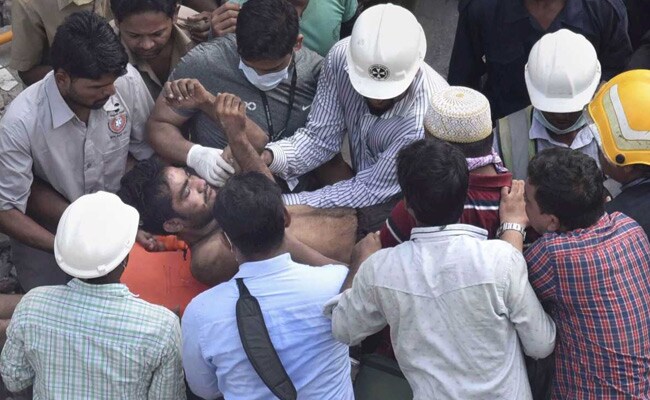 Many are still feared trapped under the debris of the building that collapsed in Mumbai's Bhendi Bazaar
Maharashtra Chief Minister Devendra fadnavis visited the collapse site earlier in the day. He also announced a compensation of Rs 50,000 to the relatives of those who lost their lives.

CM @Dev_Fadnavis visits Husaini #MumbaiBuildingCollapse site and announces ₹5,00,000 to the kin of those who lost their lives. pic.twitter.com/ZN3iRypK2v

- CMO Maharashtra (@CMOMaharashtra) August 31, 2017
The building was among 791 buildings that the city's municipal corporation listed as dangerous this year. A housing trust that was looking to redevelop the area said the building had been declared unsafe in 2011 and the housing board had offered alternative accommodation to tenants, but only seven families had moved out by early 2014. A resident of area said people had not been given proper details of what type of new housing they would be provided, making them reluctant to leave.
Only a few on this year's list of unsafe buildings in Mumbai have been evacuated or demolished, and more than 500 of them are still occupied, news agency Reuters quoted an official of the Brihanmumbai Municipal Corporation (BMC) as saying.
The Maharashtra government will conduct an inquiry into the building collapse, state minister Subhash Desai said.
In July, 17 people were killed when a four-storey building crumbled during renovations.
(
With inputs from agencies
)