Mumbai:
"
Building padli, papa; baaki loka aat adakle aahet; malaa maar laaglaa aahe, pan mi theek aahe aataa, malaa baaher kaadhla lokaanne
" (The building fell, papa; others are trapped inside; I have injured myself, but I am safe now, I have been pulled out by rescuers) were the first few words Varsha Sakpal told her father Pandurang, 48, a vegetable vendor, over the phone, soon after being pulled out of the debris.
The 20-year-old, who was made to undergo a series of X-rays, a CT scan as well as an ultrasound at Rajawadi hospital, had a lucky escape, as all her reports came out normal.
Having recently cleared her TYBcom, Varsha had three months ago taken up the job of a clerk at Shitap Hospital, located in the ill-fated Siddhi Sai building.
Pandurang thanked god and said, "It is my daughter's good fortune that she was saved. We were already disturbed because of the surgery my six-day-old grandchild underwent at Wadia hospital, and today, this incident."
A bad morning
Like everyday, Varsha had started work at 9.30 am yesterday, taking up her seat in the first-floor office. The hospital on the ground floor was undergoing renovation. Its proprietor Sunil Shitap, a local Shiv Sena leader, had come to the office and left for a meeting soon after.
Varsha said, "Sir (Shitap) told us before leaving that if we were getting disturbed by the work, we should tell the workers to keep it down."
"Sir was making the rooms more spacious and setting up a pathology laboratory by taking up some portion of the first-floor office," she added.
Around 10.30 am, unable to bear the hammering, Varsha's colleague Reshma Kasbe, 28, and a housekeeping staffer went down to ask the workers to go slow.
"I was alone in the office, when I felt tremors. I came to the door and saw residents running down the stairs, screaming '
building ghir raha hai
'. I shouted for my colleagues, but there was no response. Before I could get out, the entire building came down," Varsha recalled.
"A woman carrying her newborn was ahead of me; we were just a few metres away from the main entrance and thought we would make it. But then, I felt something hard fall on my head and, within seconds, it was dust all over.
"The woman who was ahead of me was trying to move. Just then, rescuers found me. I shouted to them about the woman and her baby trapped nearby, but they couldn't find them."
Pulled out after two hours


Geeta Ramchandani, 62, a resident of flat 403, was at home when the building collapsed. She was under the debris for nearly two hours before rescuers found her. At Rajawadi hospital, Geeta, a diabetic, couldn't control her tears. "Mujhe bahut dard ho raha hai; mere haath aur paaun nahin hil rahe hain" (I am in a lot of pain; I can't move my hands and legs). A series of X-rays and CT scan confirmed injuries to her spine, though there was no fracture or any major injury. Geeta sobbed, "Sab kuch tabaah ho gaya, hum ab kya karenge?" (everything's lost; what will we do now?). Her son Manish, who works for a major software company, rushed from Pune after hearing the news. Inconsolable himself, he was seen pacifying Geeta at the hospital. Till the time of going to press, the family said they were contemplating shifting her to a private hospital.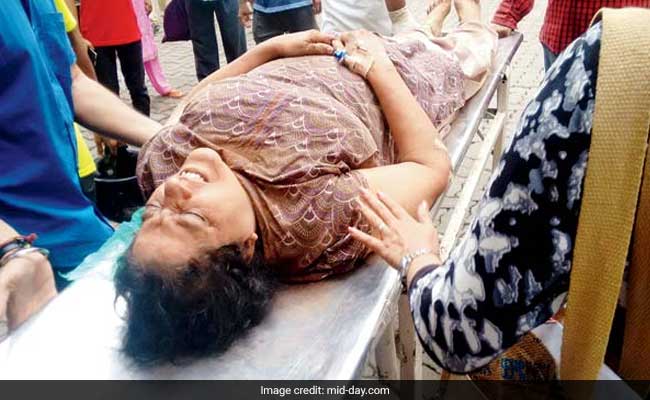 Rescuer lands in hospital

He was among the first to rush to the site to help pull out victims, but he ended up getting injured himself. Vithal Sirgiri, 35, who stays in a chawl nearby, was rushed to Rajawadi hospital after he injured his hand. "A few of us were trying to remove the concrete slabs, using a hammer to break them. The hammer hit my finger and I sustained injuries," he said. A doctor said, "We are doing an X-ray to ascertain the nature of the injury; after that will we be able to decide if surgical correction is needed."

Iron piece injures fireman

Fireman Subhash Chavan, 27, attached to Marol fire brigade, was also injured while carrying out rescue operations. Chavan was removing the debris when an iron piece sliced his finger. "I don't remember what hit me, but it was bleeding copiously. So, my superiors advised me to take a tetanus injection, for which I was sent to Rajawadi hospital," he said.
(Except for the headline, this story has not been edited by NDTV staff and is published from a syndicated feed.)