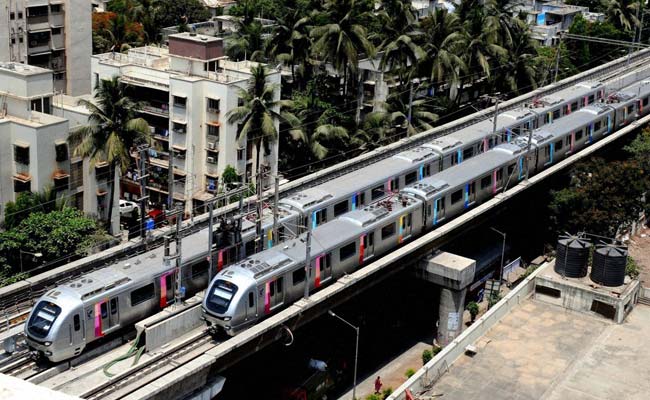 Mumbai:
Technical snag hit the Mumbai Metro on the first day of its operation today. The train, which was flagged off by Maharashtra Chief Minister Prithviraj Chavan from the Versova station, was stranded for half an hour at Jagrati Nagar station near Ghatkopar.
"What a disappointing start for #Mumbai metro first train from Ghatkopar to Versova delayed. #MumbaiMetro," tweeted a surfer, Vikas Mishra.
The Metro service was inaugurated today after a delay of three years and nearly double the original cost. In the first phase, which has been opened for public, the train will run between Versova (Western Mumbai)-Ghatkopar (East) route - a distance of 11.5 km.
For now, commuters will pay the inaugural fare of Rs. 10 for one month.
The Metro will provide crucial east-west connectivity in a linear and congested city gasping for space and drastically reduce the travel time. It will also connect the eastern and western suburban local train services which run from south Mumbai to the northern suburbs.
But the biggest advantage would be the substantial reduction in travel time from the current 90 minutes to about 20 minutes with the frequency of train at 3.5 mins.
But ahead of the opening, serious differences had cropped up between the state government and industrialist Anil Ambani led Reliance Infrastructure over the fares.
In September 2013, the government had increased the ticket rates to Rs. 9 (up to 3 km), Rs. 11 (3-8 km) and Rs. 13 (over 8 km), as against Reliance Infrastructure's demand of Rs. 22, Rs. 28 and Rs. 33. But now, Reliance Infrastructure said it wants the fares to be between Rs. 10-40.
The government, however, refused to agree to the demand. Chief Minister Prithviraj Chavan told reporters, "I have agreed to inaugurate the Metro on one condition that the fare must be as specified in the agreement. If fares have to be increased there is a process and it cannot be done arbitrarily like this."
Mr Chavan also accused the Opposition of supporting the demand for increase in fares. However, Vinod Tawde, Leader of Opposition in the Maharashtra Legislative Council said, "The fare that has been finalised according to the agreement must be implemented."
The government had thrown open the Monorail, the Eastern Freeway, the Sahar Elevated road, a swanky new airport terminal and the Santa-Cruz Chembur Link Road just before the general elections. Yet the Congress-NCP failed to win a single seat in Mumbai. But this time around with the assembly elections likely to be fought on regional and local issues, the government expects political returns from these projects.