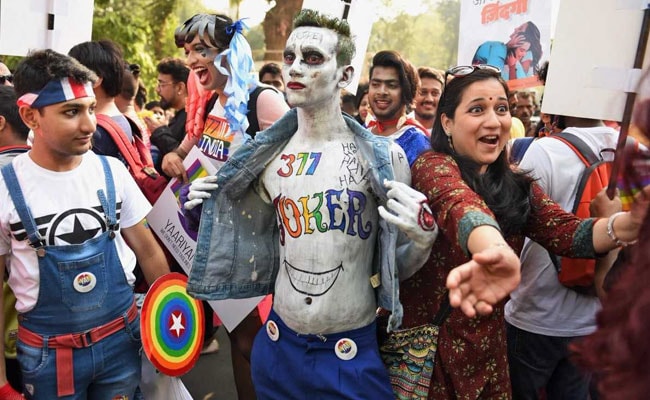 Mumbai:
Members of lesbian, gay, bisexual and transgender (LGBT) community today took out 'Pride March' through the city streets.
The theme of the parade this year was 'Section 377 Quit India', stressing the community's demand to do away with section 377 of the Indian Penal Code which criminalises sex "against the order of nature".
Pride marches or parades are organised every year across the world to assert the community's collective voice and to demand equal rights and dignity.
The march started from August Kranti Maidan (where Mahatma Gandhi had announced the Quit India movement) and ended at the Girgaum Chowpaaty beach.
It also marked the culmination of 'Mumbai Pride Month' which had started on January 5.
Prince Manvendra Singh Gohil, goodwill ambassador of non-profit organisation AIDS Healthcare Foundation, said on this occasion, "Homosexuality has existed in our country since the bygone era and we also find evidence of the same in our mythology, culture, literature, art and tradition. It's important for the society to realise that no amount of stigmatisation and discrimination will deter the queer community from fighting for and securing their rights.
As the section 377 of IPC is under judicial review (in the Supreme Court), "hopefully the future shall hold some positive outcomes," he said.
Gay activist Bismaya Raulo, program coordinator, Impulse New Delhi, a part of AIDS Healthcare Foundation, said, "Stigma and discrimination against the queers pose a huge challenge for the community to come out of their closet and express their sexual identity."
The LGBT community in Mumbai organised several events during the Pride Month, ranging from film screenings, plays, drag shows, rainbow kite flying and street performances.